Jurassic World: Dominion Dominates Fandom Wikis - The Loop
Play Sound
«

The ADR-97 is a lightweight, highly maneuverable firearm with a high rate of fire, which stands out due to the 50-round magazine positioned on top of the weapon. The basic weapon comes with inbuilt collimator sights, but some variants can also be fitted with custom optics.

Field Manual

»
The ADR-97 is a 5.7 mm submachine gun used by the Livonian Defense Force in ArmA 3.
Overview
The ADR-97 is a personal defence weapon that uses a straight blowback operation and is chambered to fire the 5.7×28 mm round.
It loads from 50-round plastic box magazines, and can attain a rate of fire of approximately ~ 900 rounds per minute with a muzzle velocity of 786.5 m/s. It does not support being mounted with optical sights or side rail accessories, though it has an integrated reflex sight and can have attachments fitted onto its muzzle.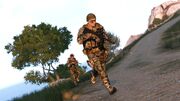 Largely constructed out of polymer, the ADR-97 is a rather unique weapon compared to all of the other SMGs in its class.
It has the largest magazine capacity out of all the SMGs in its class, a very high rate of fire (though not as high as the CSAT Sting), has manageable recoil even when firing on full auto, and can be used for both short and medium-ranged engagements. Its compact design lends to a minimal inertia penalty, making it easy to wield in close quarters.
Aside from its inability to mount accessories and its (slightly) heavier weight, the ADR-97 has few drawbacks to its use. Even the heaviest variant weighs the same as the Sting, while the lightest variants are comparable to NATO's Vermin. Overall, it is a flexible SMG that is suitable for use by both vehicle crews and combat troops alike.
Variants
ADR-97C
The ADR-97C is a compact variant of the baseline ADR-97 SMG.
The only differences with this variant is that it has a lower muzzle velocity of 715 m/s and is less accurate due to using a shorter barrel.
In addition, this variant possesses backup iron sights along the left side of the scope frame. It remains otherwise identical to its parent counterpart in all other aspects.
ADR-97 TR
The ADR-97 TR is a modified variant of the baseline ADR-97 SMG. It is carried by some LDF units and certain officers from the Horizon Islands Gendarmerie paramilitary force.
While it has virtually identical performance stats to its parent counterpart, this variant eschews the built-in reflex sight in favour of having top and side rails. It also lacks the backup iron sights possessed by its parent weapon.
This means that the ADR-97 TR can be fitted with optics and other accessories, though consequently it no longer has any iron sights that can be used to aim if it is not fitted with an optical sight.
ADR-97C TR
The ADR-97C TR is a modified variant of the baseline ADR-97C SMG. This variant is also wielded by some officers in the Tanoan Gendarmerie.
Just like the conventional ADR-97C model, this variant almost identical to it in terms of performance (shorter barrel, lower muzzle velocity, higher dispersion).
But similar to the ADR-97 TR variant, this model removes the built-in reflex sight in favour of having top and side rails.
While this means that it no longer has a reflex sight for aiming, it is able to mount optical sights onto its top rail and be fitted with accessories like laser sights onto its side rail. It also lacks the backup iron sights possessed by its parent weapon.
Camouflage
Black: Standard jet black paint finish.
Khaki: Light khaki paint finish.
Camo: Digitised semi-fractal camouflage pattern.
Hex: Light/dark grey cell pattern camouflage.
Ammunition

| Base damage value | Aerodynamic friction | Initial velocity (m/s) | Penetration depth (mm) |
| --- | --- | --- | --- |
| 8 | -0.001412 | 715 | 6 |
All variants of the ADR-97 can only be fed from a single magazine type. It has a "mass" value of 12 units:
5.7 mm 50Rnd ADR-97 Mag
Plastic box magazine containing 50 rounds worth of 5.7 mm ammunition. Does not contain any visible tracer rounds. Magazine is translucent to allow visual confirmation of rounds remaining.
Achievements
Mr. Anderson

This achievement is auto-unlocked if you equip the player's avatar in the Virtual Arsenal with any variant of the ADR-97.
Contrary to its description, the (deprecated) official addon version of the weapon pack is NOT required. The weapons have since been integrated into the base game as part of the Warlords update.
Trivia
The ADR-97 variants with full length barrels are based on the civilian semi-automatic models of the real-world "PS90" and "PS90 TR" submachine guns designed by FN Herstal of Belgium.

The compact barrel variants on the other hand, are based on the military/law enforcement models of the baseline "P90" and "P90 TR" SMGs.

The achievement's title is a reference to the 1999 film "The Matrix", of which the protagonist's (Neo) alternate name is "Thomas A. Anderson". The P90 SMG is never actually featured in The Matrix nor in any of its sequels/spin-offs, however.
All variants of the ADR-97 were initially unavailable in the base game as they were a part of the ADR-97 Weapon Pack official addon, which players had to subscribe to on the Steam Workshop before it could be "used" in-game. However, they were finally integrated into the base game with the release of Game Update 1.86 as part of the free Warlords update.
The LDF is the first faction to officially utilise the ADR-97 and its sub-variants for its military science personnel and vehicle crews. Prior to the Contact expansion pack's release, no ADR-97 models were utilised by any of the factions in ArmA 3.

Following the release of the Old Man mini-campaign, Tanoan Gendarmerie officers are also shown utilising the ADR-97 TR/ADR-97C TR variants.
Gallery
External links
See also
Weapons of comparable role and configuration