Jurassic World: Dominion Dominates Fandom Wikis - The Loop
Play Sound
«

The AKS is slightly modified version of the AK-47 rifle. It features a downward-folding metal stock to adapt this weapon for use in vehicles and for paratroops.

Armoury Description

»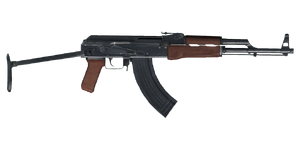 The AKS is a 7.62 mm assault rifle used by several BLUFOR, REDFOR and INDFOR factions in ArmA 2.
Overview
The AKS is simply a modified variant of the AKM assault rifle that uses a folding stock as opposed to a fixed wooden stock. The AKS is chambered to fire the same 7.62×39 mm round as its parent weapon.
Like the AKM, it loads from 30-round curved steel magazines and has the same rate of fire and muzzle velocity.
However, aside from having slightly worse accuracy and its stock - which doesn't actually affect its handling or carrying weight, it is completely identical to the baseline AKM rifle.
Camouflage
Black: Standard black metal finish with wooden furniture.
Gold: Gold-plated metal finish with chromed wood furniture.
Ammunition
| Base damage value | Aerodynamic friction | Initial velocity (m/s) |
| --- | --- | --- |
| 9 | -0.00195 | 710 |
The AKS can load two types of magazines. They both take up one inventory slot:
AKM Mag.

Standard 7.62 mm curved magazine shared with the AKM. Does not contain any visible tracers.
SA58 Mag.

Intended for use with the Sa-58 rifle. Completely identical performance-wise to regular AKS/AKM magazines.
Trivia
Just like Colonel Aziz's gold-plated .45 revolver in Operation Arrowhead, the AKS is also available in a separate variant that is exclusively wielded by Lopotev himself.

However, Lopotev's golden-plated AKS does not have the folding stock seen on standard AKS rifles.
Gallery
External links
See also
Variants
Weapons of comparable role and configuration
Weapons of

ArmA 2

Handguns

CZ 75 9 mm

•

G17 9 mm

• M1911 .45 • M9 9 mm • Makarov 9 mm •

Revolver .45

Submachine guns

CZ Scorpion Evo 3 A1 9 mm

• MP5 9 mm •

PDW 9 mm

• PP-19 Bizon 9 mm •

Sa-61 Scorpion 7.65 mm

Shotguns
M1014 • Saiga 12K •

AA-12

Carbines
AKS-74U 5.45 mm* • G36 series* (G36C*, G36K*) • M4A1 5.56 mm (M4A1 M203,

M4A3

,

M4A3 M203

) •

Mk16 CQC 5.56 mm

•

XM8 Compact 5.56 mm

Assault rifles
AK-107 5.45 mm (AK-107 GP-25) • AK-74 5.45 mm (AK-74 GP-25*, AKS-74*) • AKM 7.62 mm • AKS 7.62 mm* •

CZ 805 BREN A1 5.56 mm

(

CZ 805 A1 G1

,

CZ 805 BREN A2

,

CZ 805 B1 G1

) •

FN FAL 7.62 mm

• G36A 5.56 mm* •

L85A2 5.56 mm

(

L85A2 UGL

) • M16A2 5.56 mm* (M16A2 M203*) • M16A4 5.56 mm (M16A4 M203) •

SCAR series

(

Mk16

,

Mk16 EGLM

,

Mk17

,

Mk17 EGLM

) •

Sa-58 7.62 mm

•

XM8 series

(

XM8

,

XM8 M320

)
Designated marksman rifles
DMR 7.62 mm •

L86A2 LSW 5.56 mm

•

M14 7.62 mm

• Mk12 SPR 5.56 mm •

Mk17 Sniper 7.62 mm

• VSS Vintorez 9 mm •

XM8 Sharpshooter 5.56 mm

Sniper rifles

AS50 12.7 mm

• CZ 550 9.3 mm •

CZ 750 S1 M1 .308

• KSVK 12.7 mm* •

Lee-Enfield .303

•

LRR .338

• M107 .50* •

M110 7.62 mm

• M24 7.62 mm* (M40A3) • SVD Dragunov 7.62 mm*
Squad automatic weapons

L110A1 5.56 mm

• M249 SAW 5.56 mm* • MG36 5.56 mm* • RPK-74 5.45 mm •

XM8 Automatic Rifle 5.56 mm

Machine guns

L7A2 GPMG 7.62 mm

• Mk 48 Mod 0 7.62 mm* • M240 7.62 mm* •

M60E4 7.62 mm

• PKP 7.62 mm • PKM 7.62 mm •

UK-59 7.62 mm

Grenade launchers

M32

•

M79

•

Mk13

Launchers
9K32 Strela-2 • 9K38 Igla • 9K115-2 Metis-M • FGM-148 Javelin • FIM-92F Stinger • M136 •

M47 Dragon

•

MAAWS

•

NLAW

• RPG-7V • RPG-18 • SMAW
Static
AGS-30 • D-30 • DShKM • Igla AA Pod • KORD •

L111A1

•

L134A1

• M119A1 • M2 • M252 • Mk19 • Metis AT-13 • 2B14 Podnos •

RBS-70

• Searchlight • SPG-9 • Stinger • TOW • ZU-23
(Parenthesis) denote variants.
* indicates partial DLC dependency.


Operation Arrowhead

|

British Armed Forces

|

Private Military Company

|

Army of the Czech Republic