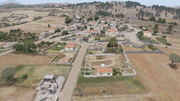 Alikampos is a settlement located on the island of Altis in the Republic of Altis and Stratis.
Overview
| Map coordinates | Grid coordinates |
| --- | --- |
| 11112.63, 14573.65 | 111-146 |
Alikampos comprises of two villages separated by a tiny stretch of open field. The village in the south has an unfinished, multi-storey building that remains under construction. It is connected by a road that either leads to Agios Dionysios in the north, Katalaki in the south or Neochori to the south-east.
It is occasionally used by CSAT peacekeepers as a logistics station for refuelling ground vehicles. At the height of the insurgency, the partially-dismantled warehouse compound in the north was also used by FIA insurgents as a stash for their smuggled weapons and supplies.
Trivia
Gallery
See also
Community content is available under
CC-BY-SA
unless otherwise noted.