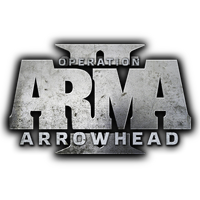 ArmA 2's Operation Arrowhead expansion pack adds new factions, weapons, vehicles, gear, a co-op campaign, several new scenarios and showcases, and three new terrains for the Green Sea region nation of Takistan. It was released on June 29th, 2010.
Overview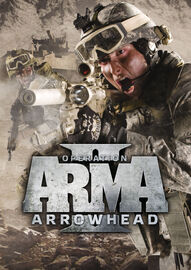 «
Three years after the conflict in Chernarus, portrayed in the original Arma 2, a new flashpoint in the Green Sea region heats up and coalition forces led by the US Army are sent to Takistan to quickly restore peace and prevent further civilian casualties in this standalone expansion pack to the best military simulator of 2009 – Arma 2.

You will enlist into various roles within the US Army, from basic infantrymen, through special operatives, to pilots and tank crew in this new installment in the award winning line up of military simulators for PC from Bohemia Interactive.

Official Description

»
The expansion's titular campaign, Operation Arrowhead, is set three years after the events of Operation Harvest Red. Like the original campaign, it is both single and multiplayer-compatible, and supports co-operative play with up to three other players either through LAN, direct connection, or through a dedicated server. An official Warfare mode has also been included exclusively for online play as well.
Along with the inclusion of new factions with a complete set of unique vehicles and other hardware, additional radio protocols have been recorded in Farsi and can be used in-game. More than fifty new Takistani and Western faces are also available, and most (post-ArmA 2) infantry units can now carry backpacks.
Many vehicles and weapons from the base game have been retextured for use in the arid environments of Takistan. The expansion pack also updates most content from ArmA 2 with the ability to use thermal vision modes, zeroing for heavy weapons and small arms, and deployable aircraft countermeasures.
Operation Arrowhead is available both as a standalone and major expansion pack for ArmA 2. It is designed to be playable without having the original copy of the game installed, though it is also available together with the original game as part of the Combined Operations bundle, which will allow access to content from both the base game and the expansion.
Content
Terrains
Factions
Campaign
Vehicles
United Nations

M113 tracked armoured personnel carrier
Weapons
Multiplayer scenarios
Screenshots
Video
External links
See also