Welcome to the Armed Assault Wiki!
An unofficial fan wiki for gameplay information pertaining to
ArmA
, a military sandbox game series developed by
Bohemia Interactive
.
Please make sure to read the guidelines for editing
here
before making any changes.
ArmA: Armed Assault, is a tactical military first-person and third-person shooter developed by Bohemia Interactive Studio and was released in 2006 as a spiritual successor to Operation Flashpoint: Cold War Crisis. Its successor, ArmA 2, launched in 2009 and received numerous follow-on expansions. The latest game in the series, ArmA 3, was released on September 12th, 2013 and has since been expanded with multiple DLCs.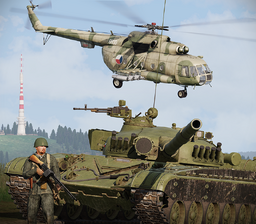 CSLA Iron Curtain
Scheduled for release in late 2020, the CSLA Iron Curtain Creator DLC will take players back to an alternate version of the Cold War in 1980s Czechoslovakia:
The Gabreta terrain, a landlocked map clocking in at 256 square kilometres
Three factions: Cold War-era armed forces of the United States and Czechoslovakia as well as rebel fighters
A suite of weapons, gear, uniforms, vehicles and aircraft for all three factions
Singleplayer and multiplayer scenarios
Blogs
Reported on September 23, 2020
Publisher Bohemia Interactive and third-party developer CSLA Studio are excited to announce the upcoming release of Arm…
Reported on June 24, 2020
Third-party Arma 3 developer Vertexmacht is thrilled to announce the release of the major 1.2 free content update for their A…
Reported on April 15, 2020
Bienvenue! Today we're officially releasing the ArmA 3 Apex: Old Man open-world singleplayer scenario. This new scenario is …
See more >
Community content is available under
CC-BY-SA
unless otherwise noted.