Jurassic World: Dominion Dominates Fandom Wikis - The Loop
Play Sound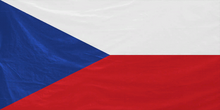 The Army of the Czech Republic (short form: ACR) is a BLUFOR faction in ArmA 2. It was initially added with the release of the Operation Arrowhead expansion pack, and was further expanded with the Army of the Czech Republic DLC.
Background
Beyond defending the nation, the Army of the Czech Republic consistently supports its NATO allies in deployments outside of Central Europe. These deployments range from counterinsurgency operations, delivering humanitarian aid, to rescuing displaced civilians in flood-affected regions.
As of 2010, a battalion of Czech Army troops make up the entirety of BYSFOR, a peacekeeping force deployed to the semi-autonomous province of Bystrica. They are backed by a few aviation units from the Air Force for both transportation and fire support. Most troops are stationed at FOB Blanik, though a smaller force also maintains a presence at FOB Strelka in the northern sector.
A detachment of operatives from the Army's 601st Special Forces Group (601st SFG) also accompany regular units, both in Bystrica and Takistan. They participated in the initial phases of Operation Arrowhead, supporting allied coalition forces in deterring invasion attempts into neighbouring Karzeghistan.
Equipment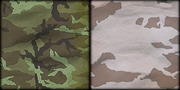 Both conventional Czech Army soldiers and 601st SFG operatives don combat uniforms available in two types of camouflage patterns; either for arid or woodland environments.
Soldiers are usually issued Czech-made, vz 95-camouflaged combat helmets and red-coloured berets while not on duty. Ballistic-resistant body armour vests are worn by most line infantry for torso protection aside from select ground vehicle crews.
The Army's elite 601st SFG operatives opt to wear the American-made Modular Integrated Communications Helmet (MICH). Some however, prefer to don a mixture of either booniehats, baseball-style caps, shemaghs and/or pakols in lieu of helmets.
Arsenal
Armoury
Image

Name
Description

Handgun
Calibre: 9×19 mm

Handgun
Calibre: 9×19 mm
Handgun
Calibre: 9×19 mm
Sniper Rifle
Calibre: 7.62×51 mm NATO
Assault Rifle
Calibre: 5.56×45 mm NATO
Carbine
Calibre: 5.56×45 mm NATO
Battle Rifle
Calibre: 7.62×51 mm NATO
Submachine Gun
Calibre: 9×19 mm
Handgun
Calibre: 9×19 mm
General-Purpose Machine Gun
Calibre: 7.62×51 mm NATO
Light Machine Gun
Calibre: 5.56×45 mm NATO
Carbine
Calibre: 5.56×45 mm NATO
Rocket Launcher
Calibre: 84 mm
Rocket Launcher
Diameter: 40 mm/105 mm
Assault Rifle
Calibre: 7.62×39 mm
Assault Rifle
Calibre: 7.62×39 mm
Sniper Rifle
Calibre: 7.62×54 mm
General-Purpose Machine Gun
Calibre: 7.62×54 mm
Motor Pool
Vehicle
Role
Notes

ATV
All-Terrain Vehicle
- Operation Arrowhead DLC-exclusive vehicle
- Can transport a single passenger

BMP-2
Infantry Fighting Vehicle
- Amphibious
- Can transport up to 7 passengers

BRDM-2
Armoured Patrol Car
- Amphibious
- Variable transportation capacity depending on variant

Dingo 2 CZ
Infantry Mobility Vehicle / MRAP
- Army of the Czech Republic DLC-exclusive vehicle
- Can transport up to 3 passengers

HMMWV GPK
Light Utility Vehicle
- Operation Arrowhead DLC-exclusive vehicle
- Can transport up to 3 passengers

L-39C
Jet Trainer / Light Attack Jet
- Army of the Czech Republic DLC-exclusive vehicle
- Available in both armed ground attack and unarmed trainer variants
- Cannot transport any passengers

L-159 ALCA
Light Attack Jet
- Army of the Czech Republic DLC-exclusive vehicle
- Cannot transport any passengers

Mi-171Sh
Utility Helicopter
- Can transport up to 16 passengers

Mi-24V
Heavy Attack Helicopter
- Can transport up to 8 passengers

Military Offroad
Light Utility Vehicle
- Operation Arrowhead DLC-exclusive vehicle
- Can transport up to 7 passengers
- Has a dedicated armed special operations sub-variant

Pandur II 8x8 CZ
Infantry Fighting Vehicle
- Army of the Czech Republic DLC-exclusive vehicle
- Can transport up to 8 passengers

PBX
Rubber Inflatable Boat
- Can transport up to 3 passengers

RM-70
Self-Propelled Rocket Artillery
- Army of the Czech Republic DLC-exclusive vehicle
- Rocket-based artillery system
- Is armed with a machine gun for self-defence
- Can transport a single passenger

T-72M4 CZ
Main Battle Tank
- Army of the Czech Republic DLC-exclusive vehicle
- Cannot transport any passengers

T810
Utility Truck
- Army of the Czech Republic DLC-exclusive vehicle
- Variable transport capacity depending on variant
- Has dedicated variants that can repair, rearm, and refuel ground vehicles

UAZ-469
Light Utility Vehicle
- Can transport up to 6 passengers
Gallery
External links
See also