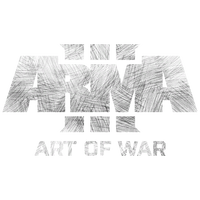 ArmA 3's Art of War DLC (alternately titled as the Art of War Charity Pack) is a charity-oriented DLC that adds clothing, props, a playable showcase mission, and an interactive gallery featuring artwork procured by the contest winners. It was released on February 23rd, 2021.
Overview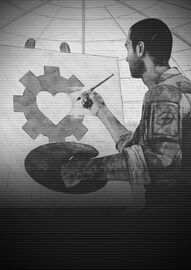 «
Welcome to the Art of War...
Create original 2D art and basic 3D models for a new, upcoming Arma 3 charity DLC to help raise money for the International Committee of the Red Cross (ICRC) and the chance to win some splendid prizes!

Official DLC Description

»
Dedicated exclusively to raising funds for the International Committee of the Red Cross (ICRC), this DLC features 2D artwork created by contest winners displayed in an interactive gallery.
Submissions to the contest were officially closed on July 15th, 2020. The list of winners were later announced on August 19th.
Art of War's assets are temporarily classified as premium content. The virtual gallery and 3D assets will eventually become freely available for all players in late Q4 2021.
Prospective early adopters of the DLC can choose from one out of three amounts to donate to charity. The amount donated does not affect the quantity of premium assets unlocked for the "owner". All proceeds from sales (after tax) are subsequently donated to the ICRC.
Content
NOTE: All content is only available initially to "owners" of the DLC. They will eventually become freely available to all users in late Q4 2021, regardless of whether they participate in the DLC's charity event.
Scenarios
Uniforms
Hats
Backpacks
Gallery
Video
Trivia
External links
See also