Obi-Wan Finale - The Loop
Play Sound
The Assault Pack is a backpack featured in both ArmA 2 and ArmA 3.
ArmA 2
Assault Pack
Faction
U.S. Army
Storage capacity
ACU/Khaki:

UAV Terminal:

Games
This is a premium asset that requires ownership of the Operation Arrowhead expansion pack.

The ArmA 2 Assault Pack is exclusively used by both conventional and special operations U.S. Army units.
It is able to store up to eight rifle magazines/underbarrel grenade launcher rounds or between two to four heavier belt pouches/boxes at once.
Unlike its heavier counterpart, non-heavy firearms cannot be placed inside the Assault Pack, so its utility is mostly limited to storing small amounts of rifle magazines or UGL rounds and hand grenades.
---
Variants
Special operations version exclusively coloured in coyote tan. Functionally identical to the regular Assault Pack.

(*) This backpack is non-functional in regular gameplay, and is only designed to connect to linked UAV drones via the UAV module placed in the editor.
---
Camouflage
ACU: Universal Camouflage Pattern (UCP) version with grey straps. Used by conventional U.S. Army soldiers.
Coyote: Coyote tan version with tan straps. Only used by U.S. Army special operations.
Black: All black colour scheme. Exclusive to the UAV Terminal Pack carried by U.S. Army special operations units.
---
Trivia
---
Gallery
ArmA 3
The ArmA 3 Assault Pack is utilised as a compact counterpart to the Kitbag and Carryall.
Easy to wear and able to store a decent amount of gear and ammunition (up to 160 units of "mass"), the Assault Pack is usually carried by heavy weapons troops and other soldiers who cannot carry the heavier packs due to the weight of their weapons, but still require a backpack to store spare munitions.
While its total capacity is less than that of the Field Pack by 40, it is much lighter and inflicts less of a stamina penalty on the carrier.
---
Variants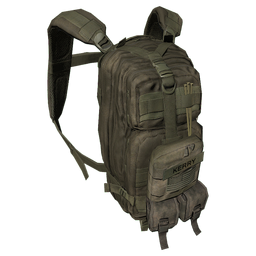 Uniquely furnished version of the regular MTP-camouflaged Assault Pack which has additional pouches attached, and a name strap with
Ben Kerry's
surname printed onto it.
There are no capacity or weight differences to the regular Assault Pack.
This is a premium asset that requires ownership of the Marksmen DLC.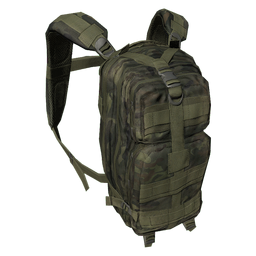 Regular Assault Pack designed specifically to contain a folded
Remote Designator
, which can be unpacked and constructed in the field onto any valid surface (or alternately, disassembled into backpack form).
It is only available in either regular MTP/woodland MTP or Arid Hex camouflage covers for the
NATO
and
CSAT
variants (respectively). Neither can store any equipment, and there are no other camouflage varieties available to choose from.
---
Camouflage
Digi: Digitised semi-fractal camouflage pattern.
Khaki: Faded ranger green colour scheme with olive green straps.
Green: Mud brown colour scheme with ranger green straps.
Hex: Arid Hexacam camouflage pattern.
Black: All black colour scheme.
Coyote: Coyote tan colour scheme with coyote brown straps.
MTP: MTP camouflage pattern with khaki straps.
Tropic: Tropical MTP camouflage pattern with dark green straps.
Sage: Faded sage green colour scheme with dark turquoise straps.
Woodland: MTP Woodland camouflage pattern with dark green straps.
Geometric: Woodland camouflage intended to mimic the LDF's Geometric pattern.
---
Trivia
The ArmA 3 Assault Pack appears to be modelled after two real-world backpacks: Rothco's "Medium Transport Pack" and Condor Outdoor's "Compact Assault Pack".
Ironically, the supposedly ranger green-coloured version used by Mediterranean NATO forces is not actually furnished in ranger green. The khaki version on the other hand, is coloured in ranger green (albeit heavily faded and worn-out).
---
Gallery
See also