BTR-40
Faction
Takistani Rebels
Takistani Militia
Type
Armoured Personnel Carrier
Seats
All variants: 7 seats:

Armed only: 8 seats:

Item capacity
Max:

10× Weapons
100× Magazines
5× Backpacks

Top speed
~ 76 km/h
Fuel capacity
100 fuel units
Primary armament
Armed only:
Secondary armament
None
Variants
Unarmed, Armed
Games
The BTR-40 is a wheeled Armoured Personnel Carrier used by both Takistani militia and anti-government rebels in ArmA 2. It was added with the release of the Operation Arrowhead expansion pack.
Overview
Roles:

Troop transport
Armed scout
«
The BTR-40 is a Russia-made armored four-wheel drive truck, used as personal carrier and reconnaissance vehicle. It enters the service in 1950 and is used up to this days.
This BTR-40 is equipped with the DshKM, the heavy anti-aircraft machine gun.

Armoury Description

»
Design
This is a premium asset that requires ownership of the Operation Arrowhead expansion pack.

Developed shortly after the Second World War, the BTR-40 was one of the first mass-produced 4x4 armoured personnel carriers made by the Soviet Union.
Armament
It features a model that is armed with a single 12.7 mm heavy machine gun attached pintle mount near the front of the vehicle.
The HMG feeds from 50-round belt boxes, and has a total of 6 boxes to reload with (for a combined total of 300 rounds). It is forward-facing only, and cannot be rotated to aim at targets behind it.
Features
A simple and compact APC, the BTR-40 serves as a lightweight counterpart to the bulkier BTR-60. Unlike the latter, the BTR-40 places a greater emphasis on speed rather than protection, and is ideal for getting troops cross-country quickly.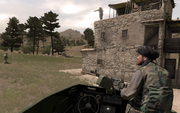 Mobility
Though it's not particularly fast for a vehicle of its size, the BTR-40 handles marginally better than most light APCs thanks to its suspension. Off-road, it can maintain speeds of up to ~ 51 km/h and has an absolute maximum speed of 90 km/h on all other surfaces.
Drawbacks
While it may have been a revolutionary design for its time, the BTR-40 is largely obsolete against all other modernised APCs.
Not only does it have limited off-road mobility, but its lack of an armoured roof cover means that all passengers and crew alike have virtually no protection against small arms fire or explosives.
Likewise, the BTR-40 itself isn't that impressive capacity-wise either, as it transports two less passengers compared to the (bigger) BTR-60 while lacking amphibious capabilities. Needless to say, the BTR-40 would be better served in a museum rather than on a modern battlefield.
Crew Capacity
It has enough seats for the driver and a gunner (in the case of the armed variant), as well as up to six more passengers who sit in the rear section.
Variants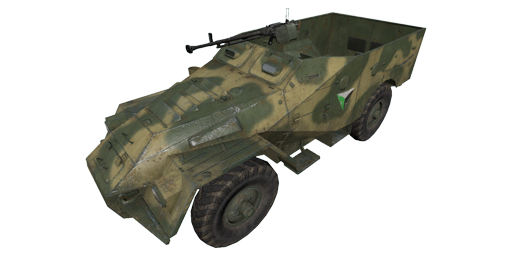 Armed scout car variant.
It is fitted with a DShKM HMG that is mounted onto a pintle near the front of the vehicle where the driver is located. It is pre-loaded with a single 50-round belt box and has a further five boxes spare (for a total of 300 rounds).
This variant transports the same number of passengers as the unarmed variant.
Camouflage
Desert: Standard two-tone desert tan/olive green camouflage scheme. Used on Militia-operated BTR-40s.
Olive: Flat olive green paint scheme. Only used by rebel BTR-40s.
Protection
All variants of the BTR-40 have base armour values of 40.
Successful strikes to any of the following highlighted sections will inflict full damage to the component:
Component hitzones remain identical on both the armed/unarmed variants.
Body
BTR-40 hulls can resist up to 40 points of damage.
Engine
The engines can survive 80 points of damage before failing. No damage is shared with the vehicle's main "health" pool.
A damaged engine will prevent BTR-40s from being able to attain their top speed.
Fuel tank
The fuel tanks on both variants can withstand 40 points of damage before rupturing. No amount of damage on the tanks are shared with the vehicle's main "health" pool.
Incurred damage will cause the vehicle to gradually leak fuel over time.
Wheels
The wheels on both BTR-40s can only take 60 points of damage. Destroying them will not affect the vehicle's "health" pool.
Armament
The gunner on the armed variant controls the forward-facing DShKM mounted behind the driver's seat:
DShKM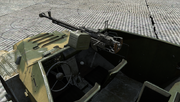 NOTE: Only available on the BTR-40 (DShKM) variant.
| Base damage value | Aerodynamic friction | Initial velocity (m/s) |
| --- | --- | --- |
| 28 | -0.0006 | 850 |
Heavy machine gun. Useful against infantry and unarmoured/lightly-armoured vehicles.
It can attain a fire rate of 600 rounds per minute and has a muzzle velocity of 850 m/s. It takes 6 seconds to reload a fresh belt box. Accuracy-wise, it has a dispersion of 0.0015 rad against targets at distances of up to 1,200 metres. Manual zeroing is possible starting at a minimum of 100 m up to a maximum of 2000 m that rises in 100 m increments.
The gun can be swivelled up to a maximum of 60 degrees in both directions horizontally. Vertically it is restricted to an elevation of 60 degrees, but has a depression of 18 degrees only.
Trivia
Gallery
External links
See also
Vehicles of comparable role and configuration
Community content is available under
CC-BY-SA
unless otherwise noted.