The Basic Helmet is a ballistic-resistant helmet worn by IDAP aid workers and news reporters in ArmA 3. It was added with the release of the Laws of War DLC.
Overview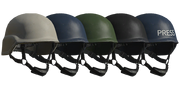 A simple off-the-shelf Kevlar helmet, the Basic Helmet provides rudimentary protection from both ballistic and explosive-based weaponry. It weighs a total "mass" of 30 units, and is usually worn by both IDAP aid workers and news reporters alike.
Rated at Level II standards, the Basic Helmet offers little resistance against bullets or explosives larger than Unexploded Ordnance (UXO) fragments. With a base armour value of 6, the Basic Helmet can at most allow the user to survive one point blank hit from a 9 mm-chambered firearm; anything larger will not be blocked.
Variants
Press Helmet (Neck Protection)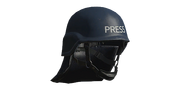 This variant of the Basic Helmet is utilised exclusively by war correspondants deployed to active warzones. Unlike the baseline helmet, it weighs in at a "mass" of 40 units instead and provides better coverage of the user's neck, retaining a base armour value of 8.
The Press Helmet is rated at Level III standards. It can potentially allow the wearer to survive a single 6.5 mm bullet. However, it is not intended to serve as a combat helmet, and will be unable to block large calibre projectiles. The addition of the neck cover is meant to minimise damage from small explosives rather than bullets.
Camouflage
Blue: Dark blue paint finish. Used by IDAP explosive removal specialists.
Black: Black paint finish.
White: Flat white paint finish.
Olive: Olive green paint finish.
Press: Dark blue paint finish with PRESS written on the front. Used on both regular and neck cover-fitted variants worn by AAN reporters.
Trivia
The Basic Helmet is based on real "PASGT" helmets still in use with numerous militaries worldwide and prior to its replacement, by the U.S. Armed Forces as well.
Gallery
See also
Community content is available under
CC-BY-SA
unless otherwise noted.