We're Getting Mutants in the MCU - The Loop
Play Sound

Bohemia Interactive Industries, officially Bohemia Interactive Industries, Incorporated, is a multinational corporation.
Background
A multinational corporation with branches throughout Central Europe, the Green Sea region and East Asia, Bohemia Interactive Industries (BII) caters to the production of miscellaneous commercial goods and military hardware.
General appliances/tools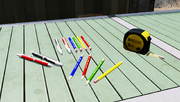 BII manufactures some household appliances and goods:
Binder folders for books, available in either black or blue covers.
Bis-In-door stationery, available in M9 Yellow, M24 Super, M4 Stone and M14 Blue varieties (for pencils), as well as red or blue for their markers/pens.
The BiMeter, a general-purpose tape measure that can be extended out to 3 metres.
Electronics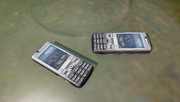 Their mobile phones, while long outdated by contemporary standards, are still widely employed by civilian consumers in less affluent countries.
Firearms Division
The corporation's most expansive and profitable division, BII's Firearms Division produces a variety of weapons and their related accessories.
Their known line of products include: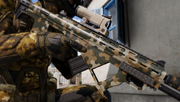 The Far East branch also collaborates extensively with government institutions, and are responsible for the development of the prototype Type 115 bullpup.
Not publicly available for civilian consumers and only issued to select special operations units, it is a dual-role weapon chambered for the caseless 6.5×39 mm round with an underbarrel .50 BW anti-materiel rifle module.
Bohemia Armory
A smaller subdivision that also caters to firearms manufacturing, Bohemia Armory produces the Mk-I EMR, Mk18 ABR and Mk14; battle rifles chambered for the 7.62×51 mm NATO round.
Although its products are primarily intended for military clients, the subdivision also markets the Mk14 Classic rifle for civilian hunters and firearms enthusiasts.
Trivia
The corporation clearly holds no ties to either the West or East. Insidiously, its only ideology is profit, and overtly functions as a war profiteering racket that has no qualms about selling hi-tech weaponry to both NATO and CSAT countries.
Bohemia Interactive Industries is an obvious parody of the game studio itself, but is often used as a stand-in for multiple real-world companies that actually manufacture their products:

For instance, the in-game Folding Battlesight is based on a real accessory designed by Troy Industries, Inc., an American firearms parts manufacturer.
Likewise, the various Sound Suppressors are loosely modelled after suppressors designed by the Advanced Armament Corporation (AAC) while one of its subdivisions, Bohemia Armory, is a parody of Springfield Armory, Inc.
BII's pens and pencils are based after their respective products produced by Staedtler Mars GmbH & Co. KG, a German stationery company. On the other hand, the BiMeter appears to be modelled after the "FatMax" series of measuring tapes manufactured by Stanley Hand Tools.

BII made its official debut into the Armaverse in ArmA 3.
Gallery
See also