Chinook
Faction
U.S. Army
British Army
Type
Heavy Transport Helicopter
Seats
28 seats:

1× Pilot
1× Co-Pilot
2× Side Gunners
1× Rear Gunner
23× Passengers

Item capacity
Max:

3× Weapons
20× Magazines
10× Backpacks

Top speed
~ 289 km/h
Service ceiling
4,000 m
Fuel capacity
1000 fuel units
Primary armament
Main:

2× M134 7.62 mm
1× M240 7.62 mm

Secondary armament
Defensive:

120× Countermeasures (Chaff/Flare)

Variants
Chinook HC4
Games



The CH-47F Chinook is a heavy transport helicopter used by U.S. Army forces in ArmA 2. It was added with the release of the Operation Arrowhead expansion pack.
An alternate variant also exists, and is known as the Chinook HC4 in British service. It was added with the release of the British Armed Forces DLC.
Overview
«
The CH-47 Chinook is a versatile, twin-engine, tandem rotor heavy-lift helicopter. Its top speed of 315 km/h was faster any comparable helicopter in the 1960s and even many of today.
The main use of the CH-47 includes troop movement, artillery emplacement and battlefield resupply.

Armoury Description

»
Design
This is a premium asset that requires ownership of the Operation Arrowhead expansion pack.

Essentially a re-manufactured version of the older CH-47D, the CH-47F is the latest variant in the Chinook family of tandem-rotor heavy-lift helicopters in use by the U.S. military.
Improvements include an upgraded avionics suite, more powerful engines, and a refurbished airframe re-constructed out of composite materials.
Armament
By default, the Chinook is always armed with two M134 miniguns that are fixed onto the windows on both sides of the fuselage (near the cockpit). A third M240 medium machine gun is also attached to the rear cargo door.
Each minigun feeds from a single 2,000-round linked belt of 7.62 mm ammunition (for a total of 4,000 rounds combined), while the rear MMG is pre-loaded with a 7.62 mm 100-round belt box and has a further four boxes in reserve.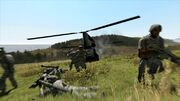 Features
Functionally, it is very similar to the Osprey utilised by the U.S. Marines and can carry a large amount of passengers in one go. While it's not designed to be able to transition between a VTOL and fixed-wing flight mode like the Osprey, it's actually armed and can defend itself and its passengers while dropping or picking them up.
On the other hand when compared to the Black Hawk helicopter, the Chinook carries twice the amount of passengers and has better survivability since it has increased armour plating.
It also has a higher chance of landing intact when it comes to auto-rotating to the ground depending on the pilot's skill; crashes that would otherwise result in a catastrophic loss for the smaller Black Hawk would usually only cause minor injuries for the Chinook's passengers.
Drawbacks
The Chinook's only downside is that it's slightly slower than the Black Hawk at its top speed, and its larger airframe prevents it from landing on the rooftops of smaller buildings.
Crew Capacity
The Chinook has a maximum seating capacity of twenty eight personnel (including the crew). This consists of the pilot, a rear gunner, two more side gunners, and up to twenty three passengers who sit on side-mounted seats in the cargo compartment (the co-pilot is considered as the twenty fourth passenger).
Variants
This is a premium asset that requires ownership of the British Armed Forces DLC.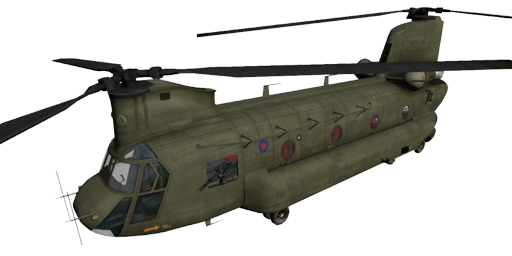 Modified variant exclusively operated by the British Army.
It is virtually identical to the U.S. Army's CH-47F in every aspect, with the only difference being that it can store twelve times as much equipment in its cargo bay (36× weapons and 360× magazines).
Protection
Both variants of the Chinook have base armour values of 30.
Hull
Chinook hulls can withstand up to 30 points of damage.
Engines
The engines on both variants can only withstand a meagre 7.5 points of damage before failing. Damaging either engine will prevent the Chinook from reaching their top speed. If both are wrecked, the Chinook will completely lose all power.
Instruments
The cockpit's flight instruments can only take 4.5 points of damage.
Main rotors
The tandem rotors can take up 30 points of damage before breaking. Disabling either will make it increasingly difficult (if not outright impossible) for the pilot to maintain lift. 50% of damage is always transferred onto the helicopter's main "health" pool.
Armament
Crew chiefs control the side/rear gunner positions on all variants of the Chinook, manning the twin M134 miniguns and M240 machine gun:
M134
| Base damage value | Aerodynamic friction | Initial velocity (m/s) |
| --- | --- | --- |
| 25 | -0.0009324 | 900 |
Side window-mounted 7.62 mm Gatling guns. Useful for suppressing infantry and disabling unarmoured ground vehicles.
It has a variable fire rate depending on the selected fire mode:
LOW: ~ 666 rounds per minute
HIGH: 1,200 rounds per minute
Muzzle velocity is set to 900 m/s for both M134s. Accuracy-wise, they have fixed dispersion values of 0.0017 rad against targets at distances of up to 800 metres away.
Rotation limits depend on where the guns are mounted but horizontally are always restricted to 173 degrees in both directions. Vertically however, this is limited to an elevation of 30 degrees and depression of 50 degrees only.
M240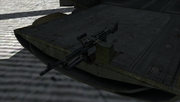 | Base damage value | Aerodynamic friction | Initial velocity (m/s) |
| --- | --- | --- |
| 12 | -0.0009324 | 900 |
Rear ramp door-mounted 7.62 mm medium machine gun.
It can attain a fire rate of up to 800 RPM and has a muzzle velocity of 900 m/s. It has a dispersion of 0.0012 rad regardless of range. It takes up to 5 seconds to reload a fresh belt box.
The M240 can be swivelled horizontally up to a maximum of 230 degrees, but is vertically restricted to an elevation and depression of 50 degrees.
Avionics
MAWS
All variants of the Chinook have a Missile Approach Warning System, and will alert their pilots of incoming missiles in mid-flight.
RWR
No variants of the Chinook have Radar Warning Receivers, and are unable to warn their pilots of being locked onto by radar-based targeting systems.
IWR
All variants of the Chinook have Infrared Warning Receivers, and will alert their pilots of being locked onto by infrared-based targeting systems.
Trivia
The rear cargo door cannot be shut even in mid-flight.
Both variants of the Chinook are the only helicopters in ArmA 2 that use a tandem-rotor configuration.
Gallery
External links
See also
Aircraft of comparable role and configuration
[[Category:Helicopters (British Armed Forces)]