| | |
| --- | --- |
| | NOTE: The information in this article details content that has yet to be officially released. It is subject to change and may not reflect what is available in the final product. |

CSLA Iron Curtain is a premium DLC made for ArmA 3's Creator DLC programme. It will be released sometime in late 2020.
Overview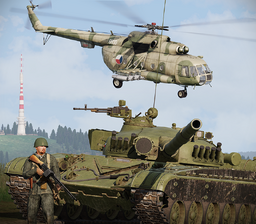 «

Welcome behind the Iron Curtain! Take a look at what life behind the barbed wire could have been in an alternate universe of the 1980s in Czechoslovakia and its border with West Germany. Ride, fly, or run into battle against your enemy in an all-new lush and mountainous terrain. Conduct large-scale mechanized infantry operations, Special Forces raids and long-range reconnaissance patrols deep behind enemy lines. Choose to be a member of US Armed Forces, Czechoslovak People's Army, Independent Rebels, or even play as a civilian. It's all up to you!

Official DLC Description

»
Set at the height of the Cold War, CSLA Iron Curtain depicts an alternate universe where the U.S. Armed Forces and Czechoslovak People's Army battle against one another in the landlocked terrain of Gabreta, a stretch of land running between Czechoslovakia and West Germany. This unique terrain features 256 square kilometres of deep forests, windswept mountains and calm valleys.
All proceeds made from the sale of CSLA Iron Curtain are shared between the developers of the DLC (CSLA Studio, the creators), the publisher (Bohemia Interactive), and the digital distributor (Valve).
---
NOTE: The content in CSLA IC is completely optional to acquire. Unlike inhouse DLCs developed and released by Bohemia Interactive, content is only downloaded if the user purchases the DLC.

Optionally, players will be able to download trial version from the Workshop which is intended for multiplayer compatibility purposes. The terrains and campaign are not fully accessible however, and vehicles still cannot be driven or commanded outside of the editor without purchasing the DLC.
Content
Post-release assets will be gradually added via patches to the DLC's content library and expanded over time as they are completed. All additions are free of charge for both existing and future owners of the DLC.
Terrains
Factions
Campaign
(To be confirmed; not yet revealed)
Vehicles
(To be confirmed; not yet revealed)
Weapons
(To be confirmed; not yet revealed)
Attachments
(To be confirmed; not yet revealed)
Screenshots
Video
TBA
Trivia
CSLA Iron Curtain will be second premium DLC to be released for the Creator DLC programme and will also be the second Cold War-era themed Creator DLC.
External links
See also
Community content is available under
CC-BY-SA
unless otherwise noted.