Jurassic World: Dominion Dominates Fandom Wikis - The Loop
Play Sound

CSLA Iron Curtain is a premium DLC made for ArmA 3's Creator DLC programme. It was released on June 16th, 2021.
Overview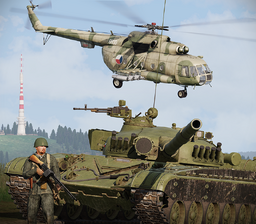 «

Welcome behind the Iron Curtain! Take a look at what life behind the barbed wire could have been in an alternate universe of the 1980s in Czechoslovakia and its border with West Germany. Ride, fly, or run into battle against your enemy in an all-new lush and mountainous terrain. Conduct large-scale mechanized infantry operations, Special Forces raids and long-range reconnaissance patrols deep behind enemy lines. Choose to be a member of US Armed Forces, Czechoslovak People's Army, Independent Rebels, or even play as a civilian. It's all up to you!

Official DLC Description

»
Set at the height of the Cold War, CSLA Iron Curtain depicts an alternate timeline where the U.S. Armed Forces and Czechoslovak People's Army battle against one another in the landlocked terrain of Gabreta, a stretch of land running between Czechoslovakia and West Germany. This unique terrain features 256 km² of deep forests, windswept mountains, and calm valleys.
All proceeds made from the sale of CSLA Iron Curtain are shared between the developers of the DLC (CSLA Studio, the creators), the publisher (Bohemia Interactive), and the digital distributor (Valve).
---
NOTE: The content in CSLA IC is completely optional to acquire. Unlike inhouse DLCs developed and released by Bohemia Interactive, content is only downloaded if the user purchases the DLC.

Optionally, players can download a trial version from the Workshop which is intended to be used for multiplayer compatibility purposes. The terrains and included scenarios (both singleplayer and multiplayer) are not fully accessible however, and vehicles cannot be driven or commanded outside of the editor without purchasing the DLC.
Content
Post-release assets will be gradually added via patches to the DLC's content library and expanded over time as they are completed. All additions are free of charge for both existing and future owners of the DLC.
Terrains
Factions
Vehicles
Main article: CSLA Iron Curtain Vehicles
Weapons
Main article: CSLA Iron Curtain Weapons
Attachments
Vests
Wearable vests in CSLA Iron Curtain
Ballistic-resistant

SF Vest

•

Vest

Armourless

Harness vz. 60

•

Harness vz. 85

•

Underarm Holster

•

Y Harness

NOTE: Vests in CSLA are still classified with armour levels but they do not conform to the same protection standards as their non-Creator DLC counterparts.
Hats
Helmets
Wearable helmets in CSLA Iron Curtain
Ballistic-resistant
Helmet DH-132 • Helmet M1 • Helmet PASGT • Helmet vz. 53
NOTE: Helmets in CSLA are still classified with armour levels but they do not conform to the same protection standards as their non-Creator DLC counterparts.
Facewear
Facewear in CSLA Iron Curtain
Glasses
Screenshots
Video
CSLA Iron Curtain Extras
Free (unofficial) additions separately made available and published by ČSLA Studio specifically for use with the Creator DLC, they can be downloaded by subscribing to the content through ArmA 3's Steam Workshop:
Iron Curtain
NOTE: This content is not usable with the Compatibility Data Pack as it requires access to the Gabreta terrain.
The Iron Curtain singleplayer campaign has players assume the role of a Czechoslovak civilian-turned-insurgent fighting to liberate their homeland from the oppression of its Communist regime. It was released on July 8th, 2021. A teaser trailer in the lead up to its release was initially posted on July 1st.
It has playable characters from all three factions spread across fifteen playable missions, and features branching storyline routes determined by the player's decisions throughout the course of the campaign.
Desert Pack
The Desert Pack addon includes desert-themed textures for most of CSLA's existing vehicle assets, suitable for use in scenarios that take place in arid environments.
Textures are included for both the CSLA and U.S. Armed Forces factions. It was released on December 20th, 2021.
Operations
NOTE: This content is not usable with the Compatibility Data Pack as it requires access to the Gabreta terrain.
The Operations addon is a mission pack that was released on January 15th, 2022. It adds multiple singleplayer and multiplayer scenarios:
Singleplayer

Operation Decoder
Road To Hell
Shadows
Venkov CSLA
Venkov US
Grinder CSLA
Grinder US
Treasures of Stozec: Advenio
Treasures of Stozec: Bellum
Treasures of Stozec: Celo
Treasures of Stozec: Donum
Treasures of Stozec: Exercitus

Multiplayer

Venkov CSLA [COOP14]
Venkov US [COOP14]
Shadows [RPG10]
Grinder CSLA [COOP12]
Grinder US [COOP12]
In addition, Czech radio protocols from ArmA 2 and its DLCs have been ported over, replacing the default American English radio protocols used by the CSLA and FIA factions.
The missions are designed with multiple gameplay playstyles in mind, such as leading a squad on search-and-destroy missions, or stealthily assaulting assigned sectors as a lone wolf. The mission pack will be gradually expanded over time as newer missions are completed by the developers.
Trivia
CSLA Iron Curtain was originally intended to be the second premium DLC to be released for the Creator DLC programme.

Its initial release date was to be in late 2020, though this was later pushed back to an undetermined date in 2021 due to logistical delays.
It would not be until early June 2021 that more definitive details and launcher support regarding its release would be revealed, though the exact release date would not be announced until June 11th.

It is the first Creator DLC to not feature a dedicated singleplayer or co-operative multiplayer campaign. However, the player can still access a myriad of SP/MP scenarios bundled with the DLC.

Whilst it is not officially a part of the CDLC's content, a (free) campaign created by the developers was later released onto the Steam Workshop.
External links
See also