Obi-Wan Finale - The Loop
Play Sound
Camp Maxwell was a military installation located on the island of Stratis in the Republic of Altis and Stratis.
Overview
A former military camp located in the woods of central Stratis, Maxwell was established by U.S.-led peacekeepers from NATO's multinational Task Force Aegis. It is named after British surveyor Martin P. Maxwell, the original architect who laid out the plans for the construction of the Stratis Air Base.
There are no roads that lead directly into Maxwell. It can only be accessed on foot by going through the surrounding forest, or landing via helicopter at an improvised helipad set up in a clearing south-east of the camp itself.
The camp was destroyed by artillery strikes on the evening of July 7th, 2035, and has not been rebuilt since.
History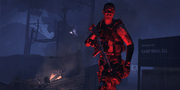 Maxwell was one of the first two installations on Stratis that were dismantled as part of NATO's ongoing efforts to pull out of the region.
However on July 7th, 2035, the camp was repurposed by the peacekeepers of TF Aegis into a makeshift base after Altian forces launched an unprovoked attack against the task force. The survivors of the initial attack rallied under their sole commanding officer and launched several raids against the Altians.
The camp was eventually discovered and targeted by the Altian military on the evening of July 7th. Mortars pummelled the camp and wiped out many survivors, leaving just a handful uninjured and the rest as walking wounded.
Maxwell was subsequently abandoned by the survivors and as of August 15th, 2035, remains destroyed.
Gallery
See also