Obi-Wan Finale - The Loop
Play Sound
The Chest Rig is a vest worn by several BLUFOR, REDFOR and INDFOR factions in ArmA 3.
Overview
A simple harness with a hydration pack attached, Chest Rigs provide a decent amount of storage space at minimal cost to the wearer's stamina. It weighs a "mass" of 20 and provides enough room for 140 units of ammunition/gear.
Capacity-wise, Chest Rigs possess the same amount of space as Tactical Chest Rigs. This makes the Chest Rig provide one of the best stamina-to-capacity ratios out of all (non-ballistic resistant) vests.
Given that Chest Rigs lack plate inserts however, they leave the wearer completely exposed to gunfire and explosions without a protective uniform worn underneath. Unless mobility is a concern, plate carriers that provide the same amount of storage space while offering protection would be an optimal choice over the Chest Rig.
Camouflage
Trivia
The information below details unused, pre-release or removed content.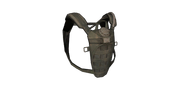 Gallery
See also