Jurassic World: Dominion Dominates Fandom Wikis - The Loop
Play Sound ArmA 3's Contact expansion pack adds two new factions, several weapons, vehicles, gear, a single player campaign and a new terrain in the form of the Eastern European country of Livonia. It was released on July 26th, 2019.
Overview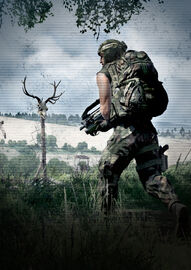 «

EVER FANTASIZE ABOUT WHAT WOULD HAPPEN IF ALIENS ARRIVE ON EARTH?

Official DLC Description

»
Contact is a military science fiction-themed spin-off expansion that explores the question:
What if humanity suddenly encounters extraterrestrial intelligence on earth?
It includes several new weapons, clothing, vests, vehicles, handheld equipment and radio backpacks, along with the brand new 163 km²-sized terrain that represents a small part of the landlocked Eastern European country of Livonia. Two new factions are also added in the form of the Livonian Defense Force and Russian Spetsnaz. Several Polish and Russian radio protocols are now available for use by both players and AI units.
Existing gear used by the NATO faction has been expanded with to include woodland-camouflaged gear, and over one hundred props are bundled for mission creators to use in the editor.
The expansion's First Contact singleplayer campaign sets players in the shoes of Aiden Rudwell, a NATO drone specialist sent to investigate signs of supposed extraterrestrial life in the isolated Livonian countryside. Over the course of the campaign, players will engage in field science, electronic warfare and combat reconnaissance.
But as they will soon discover...they are not alone.
Content
Terrains
Factions
Campaign
Vehicles
Weapons
Attachments
Uniforms
Vests
Hats
Helmets
Facewear
Backpacks
Multiplayer scenarios
Gallery
Video
Trivia
External links
See also