Jurassic World: Dominion Dominates Fandom Wikis - The Loop
Play Sound
Explosives are placeable ordnance devices featured throughout the ArmA series.
Overview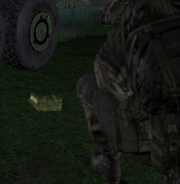 Beginning with Cold War Assault, explosives have always made an appearance in every main ArmA title but vary in form and capability.
They can range from simple plastic explosives to the more powerful satchel charges, which are capable of destroying heavily-armoured vehicles such as Main Battle Tanks or reinforced, multi-level structures.
Unlike landmines which can be autonomously activated by their trigger mechanisms, explosives are always remotely triggered by the user or optionally, set on a timer. Because of this, simply neutralising the triggerman who planted the device is sufficient to prevent explosives from being set off - unless their timers were activated in which case, disarming the device will be necessary.
However, it should be noted that only Explosive Ordnance Disposal (EOD) classes like demolition specialists, sappers/saboteurs and engineers, are able to safely disarm explosives (repair specialists cannot disarm them). Beginning with ArmA 3, the user must also possess a Toolkit within their inventory in order to dispose of them.
If there are no EOD units available, explosives can be cleared by shooting at them with small arms and other explosive devices (i.e. grenades). As explosives usually have quite a large kill zone radius, it is strongly advised that units keep a safe distance away from the device or take cover behind large objects before attempting to detonate them in this way (minimum 250 metres or more).
ArmA: Cold War Assault
In ArmA: Cold War Assault, two types of explosive devices are available to both U.S. and Soviet military engineers. Certain special operations units like U.S. black ops and Soviet Spetsnaz saboteurs also carry some charges as part of their default loadout.
---
ArmA: Armed Assault
Unlike in Cold War Assault, ArmA: Armed Assault only features one usable explosive in the form of Satchel Charges. They are used by U.S. Army, SLA and RACS engineers/saboteurs.
They have a much smaller blast radius but compensate by inflicting almost twice the damage of its predecessor. As before, each satchel requires two free inventory slots to carry.
---
ArmA 2
ArmA 2 features Satchel Charges as per usual but also retains Time Bombs from Cold War Assault once more. As always, both occupy two slots of the user's inventory and are utilised by all the main factions on BLUFOR, REDFOR and INDFOR with the exception of decentralised guerilla groups and United Nations peacekeepers.
They are usually carried by engineers and special operations units, though some non-SOF sapper classes also possess a few as part of their standard loadout. Some units may also have a few stowed inside their backpacks.
---
ArmA 3
ArmA 3 is the first game to introduce less powerful but lighter to carry plastic explosives. Unlike satchels, their blast radius is smaller and they inflict only a third of the damage but many more can be carried at a time. In addition, they possess the advantage of being stowable inside the user's vest pouches, whereas satchels can only fit inside a backpack.
Like previous games, both Explosive Satchels and Explosive Charges are universally employed by all the main factions and sub-factions - with the exception of certain non-military organisations or non-state actor groups.
When carrying a Mine Detector or utilising a remote-controlled UGV/UAV, both explosives will appear as red diamonds once within range of the sensor. Humans (both player and AI-controlled) can still manually identify the explosive by "reporting" them - though it's obviously recommended to keep a fair distance away from the device to avoid being caught in the blast radius if the triggerman spots them.
---
Trivia
ArmA 3 is the first and only title in the series (as of current) to feature real-world explosives rather than generic satchels. The Explosive Satchel is based on the U.S. Navy's "M183 Demolition Charge Assembly" while Explosive Charges are modelled after the U.S. Army's "M112 Demolition Block".
External links
See also