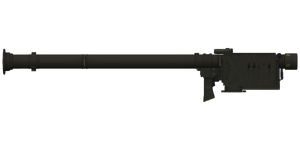 The FIM-92 is a 70 mm surface-to-air missile launcher used exclusively by U.S. military forces in ArmA 3. It was added with the release of the CSLA Iron Curtain Creator DLC.
Overview
The FIM-92 is a shoulder-launched, infrared-guided surface-to-air missile launcher.
It is capable of firing IR-guided missiles that utilise high-explosive (HE) warheads. The launcher's sight unit can lock onto helicopters and low-flying jets at distances of up to 2,300 metres away.
It takes 3 seconds for the launcher's seeker to acquire a lock-on, though it has an 80% chance to have its lock broken by flare-based defensive countermeasures.
Munitions
The FIM-92 can only load one type of missile. Each of these missiles weigh 80 "mass" to carry:

| Damage type | Base damage value |
| --- | --- |
| High-Explosive | 70 |
Missiles are soft launched with a velocity of 40 m/s. Their motors will ignite 0.25 seconds after launch and take a further 2 seconds of flight time to attain a top in-flight speed of 750 m/s.
Its warhead has a blast radius of 8 metres. The seeker has an 80% chance of having its lock get broken by defensive flare countermeasures.
Trivia
For unknown reasons, CSLA's FIM-92 can be manually controlled via wire-guidance in spite of the fact that Stinger missiles are infrared-homing only (both in previous titles and in reality).
Gallery
External links
See also
Weapons of comparable role and configuration
Community content is available under
CC-BY-SA
unless otherwise noted.