Jurassic World: Dominion Dominates Fandom Wikis - The Loop
Play Sound
Flashlights are tactical weapon-mounted and handheld torches.
Overview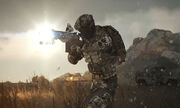 Once switched on, a flashlight will emit a beam of light that is capable of illuminating dark areas depending on where the user is currently facing.
Most weapons feature the ability to have them mounted as side/underbarrel-fitted attachments. In some cases, they are featured as integrated accessories on specific firearms. Beginning with ARMA Reforger, flashlights need not be affixed onto a weapon and can even be placed onto the ground to act as a semi-permanent light source.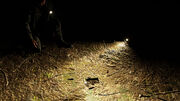 Compared to thrown chemlights, flashlights are slightly more useful since they only illuminate the area in which the user is pointing. Unlike the former, they do not expire after a certain period of time, and can be switched on indefinitely at the user's convenience.
Just like with IR-based sights however, the user risks exposing their position since the light beam is easy to spot from afar; particularly in areas with little to no ambient lighting. Furthermore, enemy human players and AI-controlled units do not require image-intensifying optics like night vision to see the beams - they are clearly visible to both the naked eye and night vision.
ArmA 2
In ArmA 2, some BLUFOR/INDFOR weapon platforms are fitted with flashlights on their accessory rails; either on the top, side or underbarrel positions. They cannot be removed and are a part of the weapon's core functionality.
Platforms that feature flashlights fitted include:
---
Trivia
Lights emitted by flashlights in ArmA 2 are relatively weak in comparison to most present day flashlights. They also lack a proper flaring effect at nighttime which further renders them quite useless for disorientation purposes.
Until the release of the latest Steam version patches, certain weapons featured flashlights as part of their models but were merely cosmetic in actual gameplay (i.e. USMC M4A1s). As part of the Community Configuration Project however, these weapons were finally fixed and users can now toggle their flashlights on/off properly.
---
Gallery
ArmA 3
In ArmA 3, the Flashlight is now available as standalone accessory which can be fitted onto any primary/secondary weapon with a compatible side rail. All BLUFOR/REDFOR/INDFOR factions can make use of them as they are no longer side-specific.
Due to the proliferation of NVGs, flashlights are mostly redundant except in specific cases. Since their bright flare (easily visible from afar) is highly conspicuous at night, they shouldn't be activated unless night vision is unavailable and/or other means of ambient lighting are not possible to generate:
---
Flashlight
Unlike weapons with "fixed" flashlights in ArmA 2, ArmA 3's dynamic weapon accessory system allows the Flashlight to be mounted onto any suitable firearm with a side rail. This capability additionally extends to certain shoulder-fired launcher weapons as well:
Note that not all weapons feature compatible rails. Certain firearms have dust covers, lack side rails, or simply have miscellaneous components obstructing the slot which prevent the mounting of flashlights (such is the case on the Rahim and CMR-76 bullpup marksman rifles).
Pistol Flashlight
Pistol Flashlight
Faction
None
Mass
3
Variants
None
Games
Some heavy pistols can also mount flashlights onto their underbarrel rails using the Pistol Flashlight attachment:
It is not possible to mount this accessory onto primary or auxiliary weapons as both types of flashlights are not interchangeable with one another.
Flashlight (Vermin)
Flashlight (Vermin)
Faction
NATO
Mass
4
Variants
None
Games
Designed specifically for its use, NATO's Vermin submachine gun can be fitted with a dedicated flashlight module. The module is installed onto the notch located just above the front of the barrel.
Aside from its appearance and Vermin-only restriction, it possesses the same degree of illumination as regular flashlights and remains functionally unchanged.
SD Flashlight
This is a premium asset that requires ownership of the Contact expansion pack.
SD Flashlight
Faction
NATO
Mass
3
Variants
None
Games
The SD Flashlight is simply a handheld torch that is strapped onto the side of a Spectrum Device using a mix of tape and fasteners as an improvised means of illumination.
It cannot be fitted onto any other platform and is functionally identical to its weapon-mounted counterparts.
---
Trivia
The ArmA 3 Flashlight is modelled after the real-life "UTG 126" tactical flashlight designed by U.S.-based company Leapers, Inc.

The handgun-mounted variant on the other hand is based on Streamlight's "TLR-3" compact rail pistol flashlight.

Unlike ArmA 2, flashlights in ArmA 3 now have proper flaring effects at nighttime. However, their beams are still too short-ranged compared to real-world flashlights.
Before the release of Game Update 1.76, the Vermin was the only firearm in ArmA 3 to feature an integrated flashlight. Following the patch, it was refactored so that the accessory became a separate attachment which had to be manually fitted by the user.
Following Game Update 2.06's release, light beams emitted by all Flashlights were improved to make use of volumetric lighting.
---
Gallery
ARMA Reforger
In ARMA Reforger, the Flashlight is no longer available as a weapon-mounted accessory. Instead, Flashlights are handheld devices that are attached onto their vest/harness/chest rig or are held via their left hand when not in combat. Additionally, they are no longer universally shared amongst BLUFOR and REDFOR, as each main faction now retains access to their own side-specific Flashlight derivative.
Unlike prior titles, Flashlights in Reforger can be placed onto the ground and will remain constantly switched on unless the original user or another person picks up and deactivates the device. It is also possible have more than one lit Flashlight active at a time by having one fitted to the wearer's vest and another held in hand.
If a Flashlight is held while the user is holding a primary/secondary weapon, they will dual-wield both sets of equipment unless they fire the weapon. However, it will remain switched on and continue projecting a beam even when it isn't being held in the user's hand:
---
MX-991
The MX-991 is used exclusively by U.S. military forces.
It has a weight of 0.45 kg, occupies a 1x1 inventory slot, and has a volume of 300 cm3.
Flashlight (Soviet)
Flashlight (Soviet)
Faction
Soviet Union
FIA
Weight
0.19 kg
Variants
None
Games
The Soviet Flashlight is used by both Soviet military forces and FIA guerillas.
It only weighs 0.19 kg and takes up a 1x1 inventory slot. Soviet Flashlights have a volume of 150 cm3.
---
Trivia
Reforger is the first game in the series to feature Flashlights as handheld items rather than as weapon attachments.
Due to tech limitations with the Real Virtuality engine used in prior games, it was possible for light beams to not render at all if there were too many light sources emitted by Flashlights in one area. However, this no longer applies to Reforger's Flashlights as the Enfusion engine allows for significantly many more light sources to be rendered at any given moment.
---
Gallery
See also