Global Mobilization - Cold War Germany is a premium DLC made for ArmA 3's Creator DLC programme. It was released on April 29th, 2019.
Overview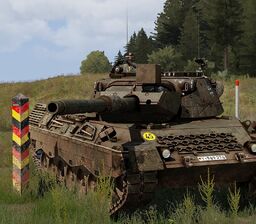 «

Willkommen! It's time for you to return to the Cold War. With its bombastic amounts of new original content, the Global Mobilization - Cold War Germany Creator DLC for Arma 3 invites you to live and breathe the military conflict between the two Germanies in the 1980s. Ride into armored combat against a determined enemy that easily outnumbers you. Experience warfare from the perspective of infantry reinforced with APCs. Or breach the historic inner German border to force the enemy's hand in battle. Which side of the wall will you fight for? Besides the West and East German armies, this DLC pack also includes Denmark as a smaller but viable military faction.

Official DLC Description

»
This Cold War-era themed DLC is the first of the premium DLCs to be released as part of the Creator DLC initiative.
The star of the DLC is the new Weferlingen terrain, a new 419 km²-sized map modelled on real-world parts of Germany's northern plains. It is the largest terrain to be featured in the series to date, and is also available in a separate winter variant.
In addition to vehicles and firearms, a whole set of military uniforms/suits, backpacks, personal protective equipment in the form of hats, helmets and vests, along with various civilian/law enforcement outfits have been included for both West and East German factions (and the Denmark mini-faction). Seventeen multiplayer scenarios are available to play, as well as up to eight German radio protocols recorded specifically for use with the DLC's content.
All proceeds made from the sale of Global Mobilization - Cold War Germany are shared between the developers of the DLC (Vertexmacht, the creators), the publisher (Bohemia Interactive), and the digital distributor (Valve).
---
NOTE: The content in GM - CWG is completely optional to acquire. Unlike inhouse DLCs developed and released by Bohemia Interactive, content is only downloaded if the user purchases the DLC.

Optionally, players can also download a trial version from the Workshop which is intended for multiplayer compatibility purposes. The terrains and campaign are not fully accessible however, and vehicles still cannot be driven or commanded outside of the editor without purchasing the DLC.
Content
Post-release assets will be gradually added via patches to the DLC's content library and expanded over time as they are completed. All additions are free of charge for both existing and future owners of the DLC.
(*) Denotes free content added in Update 1.1
Terrains
Factions
Campaign
Vehicles
Main article: Global Mobilization - Cold War Germany Vehicles
Vehicles of

Global Mobilization - Cold War Germany

Wheeled
Bicycle (Army, Police, Post, Service) • BRDM-2 • K125 gl • P601 (Firefighters, Police, Post) • SKOT-2A • SpPz 2A1 • SPW-40P2 (UM) • SPW-60PB (PA, PU-12) • TPz 1A0 (Engineer, Command) • Truck gel. 5 (Mp) • Truck 0.5t tmil gl • Truck 2t mil gl • Truck 5t mil gl • Truck 10t mil gl • Typ 1200
Tracked
BMP-1 SP2 (BWP-1) • BPz 2A0 • FlakPz 1A1 • KPz 1A1 (1A1A1, 1A1A2) • KPz 1A3 (1A3A1) • KPz 1A5 • M113A1G (A1DK, A2DK PNMK) • PT-76B • T-55 (A, D1, AK, AM2, AM2B) • ZSU-23-4V1
Rotor-wing
CH-53G • Mi-2 • PAH-1 (VBH-1)
Fixed-wing
Do 28 D-2 • L-410T
(Parenthesis) denote variants.
Weapons
Main article: Global Mobilization - Cold War Germany Weapons
Attachments
Screenshots
Release
Video
Trivia
Global Mobilization - Cold War Germany is the first of the premium DLCs made as part of the Creator DLC programme (formerly known as the Third Party DLC initiative).
External links
See also
Community content is available under
CC-BY-SA
unless otherwise noted.