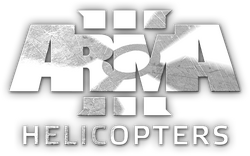 ArmA 3's Helicopters DLC adds two new helicopters, a modified variant of an existing helicopter, a slingloading showcase mission, and four time trials. It was released on November 4th, 2014.
Overview
«

Master the exhilarating experience of rotary flight in Arma 3 Helicopters. Together with the optional RotorLib Flight Dynamics Model (FDM), Arma 3's Helicopters DLC delivers two brand new heavy-lift helicopters, new playable content, new Steam Achievements, and more.

Official DLC Description

»
Its release saw the addition of slingloading capabilities for all existing helicopters capable of slinging ground vehicles, firing from vehicles (FFV) for passengers riding in both ground and air vehicles, and an optional advanced flight model for rotary-wing helicopters.
Other additions include new placeable objects and props for use in the Eden editor. The M900 helicopter, a civilian variant of the MH-9 Hummingbird used by NATO forces, was also added as part of the free platform update.
Content
(*) Denotes premium content that is only available to DLC owners.
(**) Denotes free content included as part of the platform update.
Vehicles
Screenshots
Video
External links
See also
Community content is available under
CC-BY-SA
unless otherwise noted.