Jurassic World: Dominion Dominates Fandom Wikis - The Loop
Play Sound
IR Laser Pointers are infrared laser sight attachments.
Overview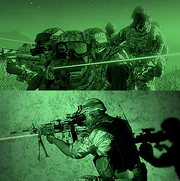 When toggled on, laser pointers project a continuous beam of light on the infrared spectrum which can only be seen with night vision or any other night vision-capable optical sight.
Laser pointers are useful for helping squad members identify their targets to other friendly units, and for coordinating precision fire by pinpointing specific targets to attack.
However, caution must be exercised when using laser pointers against an enemy force who also possess access to night vision equipment. Even in poor weather conditions, projected infrared beams are easy to spot from afar and will give away the user's position.
NOTE: The visibility of IR beams only applies to human controlled units in regular gameplay. The AI do not have the ability to track nor detect the beam in both ArmA 2 and ArmA 3.
ArmA 2
Following the release of ArmA 2's Operation Arrowhead expansion pack, most assault rifles and certain specialist weapons are fitted with laser pointers on their rails - usually mounted onto either the top, side or underbarrel positions.
They are exclusively used by BLUFOR and INDFOR factions only. By default, no REDFOR factions have access to laser sight-fitted weapons.
Platforms that feature laser sights fitted onto their rails include:
---
Trivia
---
Gallery
ArmA 3
In ArmA 3, only one type of model is available. It is no longer exclusive to BLUFOR and INDFOR factions.
Unlike in ArmA 2, all weapons that possess a usable side rail can have laser pointers fitted thanks to ArmA 3's dynamic weapon accessory system:
Functionally, the ArmA 3 laser pointer bears no differences compared to its predecessors. They still project a simple infrared beam in the direction that the weapon is pointed at.
The only difference is that because night vision equipment is readily accessible to all factions, their usefulness has fallen off quite sharply. Unless absolutely necessary, laser pointers shouldn't be used in the middle of combat as they will easily give away the shooter's position.
---
Trivia
The information below details unused, pre-release or removed content.
---
Gallery
External Links
See also