Ifestiona is a settlement located on the island of Altis in the Republic of Altis and Stratis.
Overview
| Map coordinates | Grid coordinates |
| --- | --- |
| 12786.98, 19679.311 | 128-196 |
Located in the northern regions of Altis, Ifestiona is a run-down village situated at the mouth of the hills to its west. It comprises of several metal shacks and (mostly) single-storey stone houses.
A series of dirt trails connect the village to other settlements. The trails heading north-east will lead to the town of Frini while the ones in the south-east to Athira. Lastly, the trail heading south-west will lead to the village of Koroni.
The village suffered heavy damage following a raid by government forces in a counterinsurgency operation. As of April 1st, 2035, much of the village lies in ruins.
History
On April 1st, 2035, a group of AAF troopers based at a nearby military outpost (designated OP Omega) defected to the FIA insurgency. They murdered their commanding officer and stole the outpost's supplies before fleeing to Ifestiona.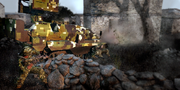 They immediately fortified the village and issued demands for supplies to be delivered by the local AAF garrison, and that the army would "pay for it". The garrison's commander ignored their demands and mobilised a platoon of infantry supported by light tanks from the 1st Mechanized Regiment (1st MechRgt.) to retake the village.
The defectors were wiped out in the short-lived siege and the 1st MechRgt. narrowly avoided killing innocents in the crossfire.
However, they were simply unable to prevent the village's homes from incurring severe damage in the ensuing battle. In the aftermath, the FIA's representatives denounced the attack and made an example out of the village's near-destruction, successfully reversing the AAF's victory into more anti-government propaganda.
Gallery
See also
Community content is available under
CC-BY-SA
unless otherwise noted.