Jurassic World: Dominion Dominates Fandom Wikis - The Loop
Play Sound
Landmines are placeable explosive ordnance devices.
Overview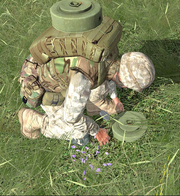 Throughout the ArmA series, landmines have functioned as pressure-based traps and will detonate when a vehicle or person drives/steps on them. Some may instead use alternate forms of triggering or can be manually detonated (remotely).
Beginning with ArmA 3, underwater-based mines are also available and can be triggered by either waterborne vessels or amphibious ground vehicles.
Depending on their filling and size, landmines can be intended for either anti-personnel or anti-vehicle purposes. In both cases, they can be disposed of by simply shooting at them with large-calibre small arms fire or explosives.
Engineer and Explosive Ordnance Disposal (EOD)-trained soldiers can also safely disarm the device by hand and in most cases, retrieve it for further use.
Unlike handheld grenades, landmines cannot be thrown and can only be planted onto the ground. They may also be dispersed via artillery shells which will scatter individual mines around their impact zone.
NOTE: Satchel charges and other non-landmine explosives are not listed here. Please refer to the Explosives article for further information regarding their usage and statistics.
Triggers
There are five different types of triggers that land/naval mines can use:
Pressure: The most basic form of trigger. Placing any part of the human body or driving over a pressure-based mine will activate it.
Tripwire: Similar to pressure triggers, but will only activate if the wire extending out of the mine (usually between two stakes) is broken. Tripwires can either be actual physical wires or "invisible" infrared-based beams.
Magnetic: Works similarly to a pressure trigger, but will only activate if a specific weight threshold is exceeded. Magnetic mines are almost always exclusively intended for anti-vehicle purposes. Objects need not be physically on top of magnetic mines, as they will be set off as soon as a valid target comes within range.
Proximity: Will activate if the mine senses motion (humans/vehicles) above a certain height limit within its detection radius. Mainly used by bounding mines.
Contact: Utilised by naval-based mines and functions as an underwater version of pressure-based triggers. Touching the mine is enough to set it off.
UXO

Added with the release of the Laws of War DLC, Unexploded Ordnance simulation is enabled for certain artillery shells and airdropped bombs.
UXO is essentially the undetonated, leftover fragments of vehicle/aircraft munitions that function as pressure-based mines.
Without a mine detector, UXO is notoriously difficult to spot with the naked eye as they can easily blend into the rubble of structures or miscellaneous urban trash/debris. As such, UXO poses an extremely dangerous hazard to both civilians and unprotected infantry.
ArmA: Cold War Assault
Landmines in ArmA: Cold War Assault are primarily carried by both U.S. and Soviet military engineers.
They are exclusively designed for anti-tank purposes, and will automatically trigger whenever they are driven over by vehicles (regardless of weight). Both require a minimum of two free inventory slots to carry, and can be disarmed by either conventional engineer-type classes or special forces operatives.
There are no other differences between the two mines.
ArmA: Armed Assault
In ArmA: Armed Assault, landmines remain identical to their Cold War Assault predecessors and are intended for exclusive use against vehicles.
They are carried by U.S. Army, RACS, and SLA engineers. Disarming mines can only be carried out by engineer classes or special forces units.
ArmA 2
Landmines in ArmA 2 are carried by the engineers of the main BLUFOR and OPFOR factions; namely USMC/U.S. Army forces and the Russian Armed Forces/Takistani Army. Engineer-class soldiers and special forces units are able to disarm landmines, though they still cannot be retrieved for further use upon "disposal".
The release of the British Armed Forces and Private Military Company DLCs also added four kinds of Improvised Explosive Device (IED) "mines", which can be remotely-detonated by their user against either infantry or vehicle targets on command.
ArmA 3
ArmA 3 introduced a much wider selection of landmines both of land and naval varieties, and is also the first game to introduce non-pressure sensitive mines as well. But unlike in ArmA 2, landmines that are disarmed by hand can be retrieved for reuse. However, only specialist soldiers carrying a Toolkit are capable of disarming any ordnance.
Likewise, IEDs from ArmA 2: PMC also make a return and are now available in both urban and rural varieties; the former designed for better concealment in heavily built-up areas and cities (with gravel/asphalt surfaces), and the latter for countryside/sparsely-populated locales (i.e. dirt roads).
Landmines can now be detected from afar by Mine Detectors, which will display a small window on the user's Heads Up Display (HUD). A visual indicator and beeping noise will sound as soon as a mine is detected, and will continue to beep more rapidly as the user approaches its location.
Aside from standard pressure-based triggers, anti-vehicle/personnel mines can now utilise either tripwires or proximity/infrared sensors instead. Provided that the user remains prone or crouches at all times and does not step over it, they can safely disarm most landmines by crawling near them and using the appropriate Disarm action.
---
Land
---
---
UXO
The following munitions can leave traces of UXO:
Cluster 155 mm howitzer shells fired by the 2S9 Sochor/M4 Scorcher
Cluster 230 mm rockets fired by the M5 Sandstorm/Zamak MLR (not a part of their default loadouts)
Airdropped cluster bombs; either NATO CBU-85s, CSAT RBK-500s, or the AAF BL778
Cluster 120 mm naval artillery shells fired by Liberty-class destroyer MK45 Hammer guns
Venator cruise missiles with a cluster payload, also launched by Liberty-class destroyers but from MK41 VLS batteries instead
All munitions have a 7% chance to disperse at least one UXO fragment. Each of these fragments have a further 25% chance to create anywhere from 1 and up to 4 smaller pieces of UXO.
Trivia
Cold War Assault's anti-tank mines are based on the American-made "M19" and Soviet "TM-62M" landmines.
In Armed Assault and ArmA 2, the anti-tank mines carried by RACS and U.S. military engineers are based on the real-world "M15". SLA/Russian/Takistani mines on the other hand, are modelled after the Soviet-era "TM-46" instead.

The M15 is also reused as a basis for ArmA 3's AT Mine, though it is no longer BLUFOR-exclusive and is strangely used by both Iranian and Chinese CSAT forces.

ArmA 3's other landmines are based on a mixture of existing (and retired) designs:

APERS Mines are based on Italian-made VS-50s then-manufactured by Valsella Meccanotecnica SpA.
APERS Mine Dispensers are based on the American-made "M7 Spider" mine dispenser designed by Alliant Techsystems (in partnership with Textron Systems).
The APERS Bounding Mine on the other hand, is based on the American-made "M26" bounding mine.
APERS Tripwire Mines are based on the Yugoslavian-made "PMR-3" stake mine.
Claymore Charges are modelled after the Arms-Tech "MM-1 Minimore" (not to be confused with the Hawk "MM-1" grenade launcher), which itself is a smaller derivative of the "M18A1 Claymore" mine used by the U.S. military and many more countries worldwide.

Contrary to how most games and films usually depict the Claymore and its derivatives as victim initiated mines, the ArmA 3 Minimore is represented authentically as being command-detonated only.

The M6 SLAM is based exactly on American-made "Selectable Lightweight Attack Munition" mines, though its M6 designation is completely fictional (real SLAMs are only designated up to "M4").
The Moored Naval Mine is based on the U.S. Navy's "Mark 6" sea mine, while the Bottom Naval Mine is modelled after the Italian-made "MN103 MANTA".
Lastly, in-game PDM-7s are based directly on their real-world Soviet-made counterparts: the "PMD" family of shallow water mines.
External links
See also