Jurassic World: Dominion Dominates Fandom Wikis - The Loop
Play Sound
Luganville is a town located on the island of Tanoa in the Tanoa Province of the Horizon Islands.
Overview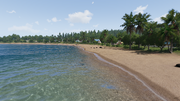 A sleepy seaside town situated on the eastern side of Tanoa, Luganville is home to a medium-sized community of banana and sugarcane farmers.
Due to the recent super-strain malaria outbreak, road access to-and-from Luganville has been strictly limited and is only possible with permission from the authorities. Chinese-led Pacific CSAT forces are currently overseeing the vaccination programmes and decontamination efforts.
The government has recommended that residents concerned for the wellbeing of family members who may still be living in the town to contact the Le Service de Santé de Tanoa on 555-455 for more information.
Notable inhabitants
History
As of June 2nd, 2038, the town has been quarantined due to the outbreak of an unknown super-strain of malaria.
SPOILER ALERT
NOTE: This section contains spoilers from ArmA 3's 'Old Man' campaign.
Immediately after the entirety of Tobakoro's residents were systematically exterminated by Atrox, CSAT science teams quickly shifted their attention towards Luganville. A month later, their plan was put into motion.
Rather than infect the town itself however, they offloaded crates containing contaminated mosquitoes from trucks into the village to its west. Within hours, the first calls came in and Dr. Drábek was flooded with requests for his assistance.
The doctor feared that his patients would be "taken away" by CSAT soldiers if they were left in their current state. Running low on medicine and realising that they would be arriving soon to dispense their "aid", the doctor ferried the sick villagers away from Luganville, hoping to hide them from CSAT forces.
Facilities
NGO camp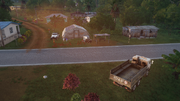 Aid workers from the IDAP Non-Government Organisation have a small camp established along the crossroads leading into the western village.
Military base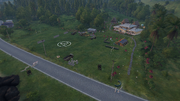 Garrisoned by a platoon of Pacific CSAT forces, the base is built along the northern road leading out of Luganville.
The base's command centre is set up inside the hotel while the field tent houses the base's engineers and HQ staff. The lawn has an improvised helipad that is large enough to support a single helicopter or VTOL transport.
Logistics trucks are always parked nearby to resupply aircraft at a moment's notice.
Gallery
See also