Jurassic World: Dominion Dominates Fandom Wikis - The Loop
Play Sound
«
M16A2 is a U.S. 5.56 NATO caliber assault rifle.
Optional accessories: silencer, bayonet, scope, reflector sight.

Field Manual

»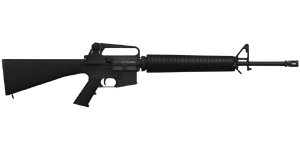 The M16A2 is a 5.56 mm assault rifle used by U.S. military forces and in limited numbers with FIA guerillas in ArmA 3. It was added with the release of the CSLA Iron Curtain Creator DLC.
Overview
The M16A2 is a selective-fire, gas operated assault rifle that is chambered for the 5.56×45 mm NATO cartridge.
It loads primarily from 30-round STANAG magazines, has a muzzle velocity of 920 m/s, and can attain a fire rate of up to 800 rounds per minute.
The carryhandle on the M16A2's upper receiver supports the attachment of three types of optics: a non-magnified reflector sight, a magnified riflescope with a 4x zoom, and a night vision scope suitable for low-light operations. Lastly, M16A2s can mount a sound suppressor but cannot be fitted with a bayonet.
Variants
M16A2 + M203 GL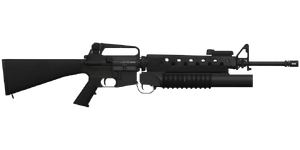 This sub-variant is a dedicated model that has been fitted with an M203 40 mm grenade launcher. Additionally, it features a heat shield that covers most of the barrel.
Its M203 UGL can load and fire a mixture of high-explosive (HE) grenades, non-lethal smoke rounds, and less-than-lethal (LTL) flare shells at targets standing up to 300 metres away.
The M203 features an adjustable leaf sight which be "zeroed" starting at 50 metres up to a maximum of 250 metres (rising 50 metre increments).
Because of the added weight of the grenade launcher, this variant of the M16A2 has a slightly greater inertia penalty and is more difficult to swing around in close quarters.
Ammunition
NOTE: Both variants of the M16A2 are capable of loading the same magazines utilised by non-CSLA 5.56 mm-chambered weapons. To minimise clutter, they are deliberately excluded from this section.

| Base damage value | Aerodynamic friction | Initial velocity (m/s) | Penetration depth (mm) |
| --- | --- | --- | --- |
| 8.536 | -0.001425 | 920 | 7.4106 |
For grenade rounds usable with the M203 GL, refer to its dedicated article here.
M16A2s can only load one type of magazine that has a weight of 9 "mass" units. It can be shared with the M16 Car., and is fully interchangeable between the two platforms:
5.56 STANAG 30×
Standard 30-round STANAG magazine loaded with 5.56 mm ball ammunition.
Only the last four rounds of the magazine will comprise of visible tracers.
Trivia
Although its in-game Field Manual description states that bayonets are a mountable attachment, it is not actually possible fit a bayonet onto the baseline M16A2.
Gallery
External links
See also
Weapons of comparable role and configuration