MH-60S
Faction
USMC
Type
Utility Helicopter
Seats
16 seats:

1× Pilot
1× Co-Pilot
2× Side Gunners
12× Passengers

Item capacity
Max:

30× Weapons
150× Magazines
10× Backpacks

Top speed
~ 270 km/h
Service ceiling
3,500 m
Fuel capacity
1000 fuel units
Primary armament
Main:
Secondary armament
Defensive:

60× Countermeasures (Chaff/Flare)

Variants
UH-60M Black Hawk
Games
The MH-60S is a medium-lift utility helicopter used exclusively by the U.S. Marines in ArmA 2.
Overview
«
The Knighthawk is a US NAVY utility helicopter used for transport roles, medical evacuation and even air support.
It is capable of carrying 11 combat equipped soldiers. Easy to maintain in the field.

Armoury Description

»
Design
The MH-60S is a four-bladed, twin engine, rotary-wing helicopter designed to transport troops or cargo into battle.
Armament
It is armed by default with twin 7.62 mm medium machine guns fitted to side doors located just behind the cockpit.
Each M240 is pre-loaded with a single 100-round belt box of and has a further two boxes in reserve (for a total of 300 rounds per side gunner).
Features
The MH-60S can carry far more passengers than the smaller UH-1Y, and is slightly better protected against ground fire compared to its smaller and softer-skinned counterpart.
Drawbacks
Nonetheless, this does come at the cost of armament as unlike the UH-1Y, the MH-60S is not fitted with stub wings. It cannot serve as a light gunship after dropping off its passengers.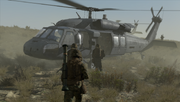 As the side door gunners only use MMGs as opposed to miniguns, they also cannot suppress enemies as effectively during and after landings due to their lower and non-adjustable rates of fire (incidentally, an issue that its U.S. Army counterpart does not have).
Overall, the MH-60S works better as a battlefield taxi for quickly transporting a squad's worth of troops into or out of battle. For situations that don't require its expanded passenger capacity however, the UH-1Y will always prove to be more useful.
Crew Capacity
Including the crew, the MH-60S has a seating capacity of thirteen personnel. This consists of the pilot, the two side gunner crew chiefs, and up to twelve passengers who sit on back-facing seats in the centre compartment (the co-pilot is considered as the thirteenth passenger).
Protection
The MH-60S has a base armour value of 35.
Hull
The hull can withstand 35 points of damage.
Engine
The engine will be disabled if it takes more than 8.75 points of damage. A damaged engine will suffer from reduced power output.
Instruments
The cockpit's flight instruments can only take 5.25 points of damage before failing.
Main rotor
The main rotor can only withstand 10.5 points of damage. Disabling the main rotor will prevent the pilot from being able to maintain lift. 30% of damage is always transferred onto the main "health" pool of the MH-60S.
Tail rotor
The tail rotor is limited to taking just 7 points of damage. Disabling the tail rotor will prevent the pilot from being able to control the main rotor's torque. At least 10% of damage will be shared with the main "health" pool of the MH-60S.
Armament
Both crew chiefs man the side door-mounted M240 machine guns:
M240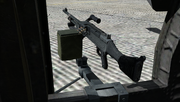 | Base damage value | Aerodynamic friction | Initial velocity (m/s) |
| --- | --- | --- |
| 12 | -0.0009324 | 900 |
Side door 7.62 mm medium machine guns.
They can attain fire rates of up to 800 rounds per minute and only require 5 seconds to reload fresh cloth pouches. Accuracy-wise, they have a fixed dispersion of 0.0012 rad regardless of distance.
Avionics
MAWS
The MH-60S does not have a Missile Approach Warning System, and cannot alert the pilot of incoming missiles that are already in mid-flight.
RWR
The MH-60S has a Radar Warning Receiver, and will alert the pilot of being locked onto by radar-based targeting systems.
IWR
The MH-60S has an Infrared Warning Receiver, and will alert the pilot of being locked onto by infrared-based targeting systems.
Trivia
Gallery
External links
See also
Variants
Aircraft of comparable role and configuration