Malden (alternatively Malden 2035) is a playable terrain in both ArmA: Cold War Assault and ArmA 3.
Overview
«

Malden 2035 is a fresh take on the original Malden terrain featured in the very first Arma game. While Malden 2035 re-uses many vanilla Arma 3 structures, vegetation, and similar assets, it also includes additions such as colored buildings, vineyards, and barns. Malden 2035 was initially developed for Bohemia Interactive's free tactical multiplayer shooter, Argo, and benefits greatly from Argo's infantry focus. A lot of effort was put into the gameplay flow of each location, and as such, this new version of Malden is ideal for Close Quarters Combat.

Malden DLC Official Description

»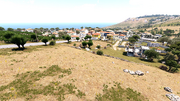 Featured as an official terrain both in ArmA: Cold War Assault as well as ArmA 3, Malden is a Mediterranean island that contains a mixture of desert terrain, forests, farmlands, mountains, rolling hills, and much more.
Its French-themed picturesque sights and diverse environment makes it truly unique compared to both its sister island Everon, as well as other locations in the Mediterranean like Altis and Stratis.
Geography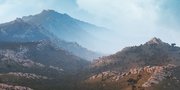 Including both smaller islands isolated from the mainland, Malden covers an area of only 62 square kilometres.
Conditions on the island are a mixture of semi-arid, mountainous outcrops that define its overall landscape. Non-manmade foliage present on the island mostly consists of stubby trees and shrubbery with the occasional dense woodland consisting of cypress/pine trees.
The highest point on Malden is located at the peak of La Cime, which reaches a height of approximately 523 metres above sea level.
Settlements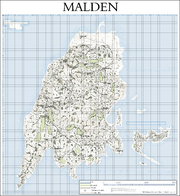 Including both major towns and villages, there are a total of seventeen established settlements located on Malden. Thirteen are categorised as villages, while the remaining four are towns/cities. The capital of Malden is La Trinité, which also serves as the island's biggest and most populous city.
Aside from a few of its more rugged villages in the north-west, all settlements are connected via a single main road which loops around the entire island. It ultimately terminates in the north-east at Malden's airport.
During the Cold War, few military bases aside from the NATO-operated airport existed; the sole exception being the supply depots built by the U.S. Army on the south-eastern's so-called "training island". At the turn of the millennium and with the rise of CSAT influence on the island, numerous military installations were established throughout the island while older facilities were decommissioned and abandoned.
Because of its close proximity to international shipping routes passing through the Straits of Gibraltar, Malden also serves as an important stopping point for seafaring vessels. Up to fifteen lighthouses are installed at various points on the island, many of them concentrated around the northern and south-eastern parts of Malden.
NOTE: Aside from obvious changes to aesthetics and adjusted positioning, most settlements are virtually identical to their counterparts in both versions of the terrain. Where portions of the terrain have been significantly altered or do not exist in ArmA: Cold War Assault and ArmA 3, they will be noted as such.


---
Points of interest
Dedicated to the fallen from the 1985 flashpoint, this statue serves as a commemorative tribute to the American and Soviet soldiers who battled for control over Malden.

NOTE: Only available in ArmA 3's Malden 2035.
Constructed near La Rivière, this place of worship is often visited by religious pilgrims from all across the Malden islands chain.
Popular with tourists and amateur rock climbers alike, this picturesque location is separated by tall rock formations that form into a ravine.
Gallery
Trivia
Malden's geography is inspired by the real-world Greek island of Lefkada in the Ionian Sea.

The in-game terrain is much smaller than its real counterpart however, and its settlement layouts in both games are completely fictional.

Malden 2035 (the remake version) was not initially available in ArmA 3, and was only added with the release of Game Update 1.72 as part of the free Malden DLC.

The terrain itself was originally designed for use in Project Argo, a now-defunct, free-to-play competitive shooter title developed by Bohemia Interactive. The developers eventually decided to port Malden into ArmA 3 after overhauling some parts of the terrain.
During the development process, members of the community were invited to create their own (Armaverse-relevant) advertisements for display on the various billboards scattered throughout Malden. 11 out of the 85 entries were eventually chosen and added for display in-game.

Until the release of ARMA Reforger, it was the only terrain in the entire series to have been featured in two main titles.
External links
See also
Playable terrains in ArmA: Cold War Assault
Desert Island • Everon • Kolgujev • Malden • Nogova*
* denotes terrains that were added in the Resistance expansion pack.