We're Getting Mutants in the MCU - The Loop
Play Sound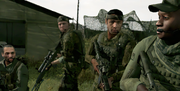 «

On the way to FOB Manhattan

Mission Description

»
Manhattan is the seventh mission of ArmA 2's Operation Harvest Red campaign.
Overview
The players control the four operatives of USMC Force Recon fireteam callsign Razor.
Roles/classes:
Briefing
CDF has control of the majority of the country, thanks to the swift and decisive involvement of the USMC. However, insurgency is on the increase in the Krasnostav region. Forward Operating Base 'Manhattan' has been established south of the town of Krasnostav in this area. Immediate USMC intervention is needed to assist the CDF who lack the counter-insurgency training.
Objectives
(1) Report to Cpt. Shaftoe
Mandatory
All members of Razor must survive
Avoid collateral damage/friendly fire
Do not leave the AO
Walkthrough
Razor Team is dropped into the are by an Osprey VTOL. Your first task is to report to Captain Shaftoe. After disembarking the VTOL, you ask a officer at the gate for direction. He tells you the Captain is in the base at the top of the hill. You should jump into the nearby Humvee to make your trip easier.
FOB Manhattan serves as your main base of operation in this area. You will find here some vehicles you can use, a UAV terminal for recon, several weapon and ammo crates, supply trucks to resupply and fuel vehicles and your transport helicopter is stationed here.

See also