ArmA 3's Marksmen DLC adds seven firearms, two new optical scopes, new ghillie suits for each faction, remote designators, a playable showcase and new firing drills. It was released on April 8th, 2015.
Overview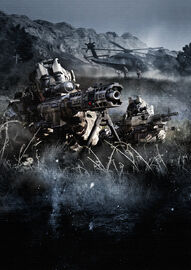 «

Hone your shooting skills and engage in long-distance combat. The Arma 3 Marksmen DLC includes new weapons, playable content, Steam Achievements, and more.

Official DLC Description

»
For premium content, the DLC adds five marksman rifles for each of the main factions (aside from the AAF) that have vastly different handling profiles. In addition, two medium machine guns in the form of the SPMG and Navid were added to NATO and CSAT factions.
Two deployable and remotely-operated Remote Designator "turrets" were also added to both factions, and can be assembled at any location to remotely designate targets from a static position.
As part of the free platform update, its release saw the addition of improvements to infantry combat through the incorporation of weapon resting, functionality for both attachable and integrated weapon bipods. General improvements to the AI were also made with the addition of a suppression mechanic, as well as better reaction to incoming fire.
On top of the premium content, personal protection equipment (PPE) was also expanded with the addition of heavy plate carriers for NATO and AAF infantry. These additions are free additions to both DLC and non-DLC owners.
Content
(*) Denotes premium content that is only available to DLC owners.
(**) Denotes free content included as part of the platform update.
Objects
Weapons
Attachments
Screenshots
Video
External links
See also