Mine Detectors are explosive ordnance disposal tools in ArmA 3.
Overview Edit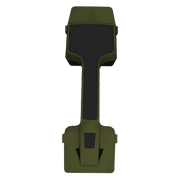 «
Having a mine detector in your inventory will automatically locate all explosives in a close range.

Field Manual

»
A handheld sensor device, Mine Detectors automatically search for all explosive devices within proximity of the user. They weigh a total "mass" of 20 units to carry.
Mine Detectors have a maximum detection range of 15 metres in a 360 degree radius around the user. Once a landmine, explosive, Unexploded Ordnance (UXO) or Improvised Explosive Device (IED) has been sensed, the Mine Detector will emit a loud beep to immediately alert the user. These beeps will quickly increase in frequency the closer the user is to the mine/explosive.
Some UAVs/UGVs may also utilise built-in mine detectors. Aside from having a greater maximum range of 50 metres, they function in the exact same way as their handheld counterparts; emitting loud beeps audible only to the drone operator whenever a mine is within range.
ArmA 3 marks the first time that mine detectors have made an appearance in the series.
Prior to the Laws of War DLC, mine detectors did not emit any audible sound effects and only displayed a visible icon on the user's map and Heads Up Display.
AI-controlled units equipped with mine detectors will proactively avoid walking into the path of detected mines regardless of their class.
Featured specifically for use with the Old Man mini-campaign/scenario, a variant of the Mine Detector exists in the form of the Drone Detector.

It cannot be equipped outside of the scenario without scripting commands, and is functionally identical to regular Mine Detectors. Its main purpose in Old Man is to detect suicide UAVs that patrol the outskirts of large military bases throughout Tanoa; as such, it has a much wider scan radius of 200 metres rather than 15.
External links Edit
See also Edit