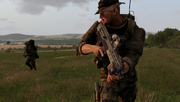 «

Part of a sweeping effort to modernize the Livonian Defense Force's infantry capabilities, the Promet modular bullpup rifle became the LDF's main service rifle in late 2020. Its 6.5x39 mm caseless ammunition is the same caliber as NATO's 6.5 mm ammunition used in MX class weapons. The Promet is known for its unique detachable carry handle with integrated 2.5x magnified optics. Besides a marksman variant with extended barrel, it can also be fitted with a 40 mm underslung grenade launcher. Tactical teams can instead choose to mount an underbarrel 12 gauge shotgun module with quick-release cylinder for an extra close range punch. The rifle is manufactured in a range of color options.

Field Manual

»

The Promet series is a family of modular bullpup assault rifles used by the Livonian Defense Force and in limited numbers with the Tanoan Gendarmerie in ArmA 3. They were added with the release of the Contact DLC.
Variants
The Promet is a 6.5 mm bullpup assault rifle used by both the Livonian Defense Force and in limited numbers with the Tanoan Gendarmerie in ArmA 3. It was added with the release of the Contact DLC.
Overview

The Promet is a selective-fire bullpup assault rifle chambered for the 6.5×39 mm NATO caseless round. It loads exclusively from 30-round magazines designed specifically for use with the Promet family, and can attain a fire rate of 800 rounds per minute with a muzzle velocity of 840 m/s. The Promet supports being fitted with accessories on its top and side rails and can also mount muzzle attachments.
The service weapon of all LDF infantry and the Gendarmerie's tactical response units, the Promet features decent accuracy and an ergonomic bullpup design melded into a single compact package. Accuracy-wise, the Promet is far superior to the MX and is on par with the SPAR-16.
When it comes to handling, the Promet's recoil is marginally easier to control compared to the MX and has less of a kick while firing on full auto. Consequently however, the Promet's bullpup configuration forces the user to take almost one full extra second to rearm the rifle.
Nonetheless, the Promet's overall flexibility and ergonomic design makes it a viable option for both close quarters and medium-ranged firefights; at least for engagements under ~ 490 metres.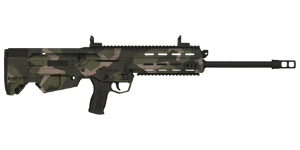 The Promet MR is a 6.5 mm bullpup marksman rifle used exclusively by the Livonian Defense Force in ArmA 3. It was added with the release of the Contact DLC.
Overview

The Promet MR is a reconfigured version of the baseline Promet designed to serve in a marksman role. It utilises a longer barrel which enhances its muzzle velocity and range.
Compared to the regular Promet, the MR variant supports being fitted with underbarrel attachments and fires rounds with a greater velocity of 900 m/s instead. Accuracy is also improved and like its parent weapon, the Promet MR is superior to its American-made counterpart when it comes to dispersion at distances beyond ~ 600 metres.
Where the Promet MR falls short is its bullpup configuration; it takes longer to reload and the barrel's length negates the layout's advantage. It is cumbersome to wield in close quarters and suffers from a greater inertia penalty compared to the American MXM.
The Promet is also limited to 30-round magazines, whereas the MXM can load its light support weapon model's 100-round stacked magazines while keeping its accuracy/muzzle velocity. Last but not least, it still has a slightly lower muzzle velocity in spite of its longer barrel (the MXM retains a velocity of 920 m/s compared to the Promet MR's 900).
Although sufficient for its intended task, the Promet MR's few upsides are mostly offset by its disadvantages and render it only just above average as a DMR. It is by no means a poor marksman rifle; the MXM and any
dedicated 7.62 mm-chambered counterparts
are simply better alternatives, and will always be preferable over the Promet MR for most scenarios.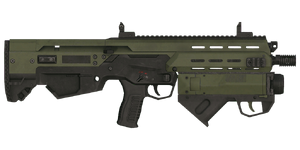 The Promet GL is a 6.5 mm bullpup assault rifle used exclusively by the Livonian Defense Force in ArmA 3. It was added with the release of the Contact DLC.
Overview

The Promet GL is simply a modified configuration of the baseline Promet rifle fitted with an underbarrel grenade launcher module.
It is chambered to fire the same 6.5×39 mm NATO caseless round, and can be fitted with accessories on its top and side rails and supports muzzle attachments.
Its underbarrel UGP-40 on the other hand, can load a variety of 40 mm grenades ranging from high-explosive (HE) to non-lethal smoke and less-than-lethal (LTL) flare shells. Aiming with the UGP-40 is accomplished via the launcher's notched quadrant sight, which can be zeroed up to a maximum range of 400 m (rising in 50 m increments).
Performance-wise, the Promet GL retains the same metrics of the regular Promet; sharing an identical muzzle velocity and fire rate. The sole difference is the underbarrel GL, which provides the user with a little bit of extra firepower at the cost of an increased stamina burden/inertia penalty in close quarters.
Compared to the MX's
3GL
, the UGP-40 is slightly less ergonomic to aim with since it lacks a red dot sight. It also cannot load 3-round grenade "magazines" and is restricted to launching one round at a time.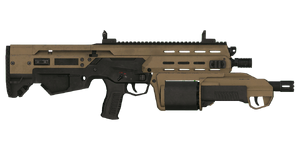 The Promet SG is a 6.5 mm bullpup assault rifle used by both the Livonian Defense Force and in limited numbers with the Tanoan Gendarmerie in ArmA 3. It was added with the release of the Contact DLC.
Overview

As with the GL variant, the Promet SG is simply a modified Promet rifle fitted with an underbarrel shotgun module. Chambered to fire 12 Gauge shotshells of either pellet or slug variety, the TSP-12 module can attain a fire rate of up to 200 rounds per minute. It loads exclusively from 6-round cylindrical magazines.
Highly flexible, the TSP-12 can be used for both anti-personnel and anti-light vehicle roles. When loaded with pellets, a Promet SG user can easily wipe out enemy infantry teams with one or two well-placed shots depending on how tightly clustered the targets are positioned. For enemies wearing heavy plate carriers, a direct hit with a blast of pellets can severely wound (or outright kill) with a strike to any part of their torso.
When pitted against vehicles, the TSP-12's slugs can penetrate through the side armour of light vehicles (medium and heavy armour are impervious, as per usual). In close quarters, a volley of slugs can cut through the wind shield of such vehicles and incapacitate the driver, crew or passengers inside with relative ease.
Nonetheless, the TSP-12 is not without its drawbacks. Unlike the GL variant's grenade launcher, the TSP-12 lacks a dedicated sight for aiming and instead relies on the rifle's ironsights. However, the ironsights are not calibrated for precise aiming with either shotshell; worse yet, larger attachments like any of the sniper or enhanced vision scopes (without backup sights) will actually obstruct the user's aim.
Lastly, the TSP-12
cannot
be zeroed manually. Attempting to hit targets beyond 300 metres will rely solely on the user's proficiency - and a shred of luck, depending on the target's movement. Needless to say, the TSP-12 is best reserved for use in close quarters rather than for medium/long distance firefights.
Camouflage
Olive: Standard olive green paint finish.
Black: Matte black paint finish. Exclusively used by the Tanoan Gendarmerie.
Camo: Woodland camouflage finish intended to mimic the LDF's Geometric pattern.
Sand: Desert tan paint finish.
Ammunition
NOTE: The following values for the 6.5 mm round only apply to the magazine itself. Both the baseline Promet rifle variants with no barrel modifications (Promet/GL/SG) and marksman variant (Promet MR) feature higher muzzle velocities, which override the magazine's velocity value and provide their rounds with slightly increased penetration (base damage values remain the same).
| Round name | Base damage value | Aerodynamic friction | Initial velocity (m/s) | Penetration depth (mm) |
| --- | --- | --- | --- | --- |
| 6.5×39 mm NATO | 10 | -0.0009 | 800 | 12 |
| 12 Gauge (Pellet) | 20 | -0.0005 | 380 | 5.7 |
| 12 Gauge (Slug) | 42 | -0.008 | 450 | 20.25 |
For grenade rounds usable with the UGP-40, refer to its dedicated article here.
All variants of the Promet can load two types of magazines. They are fully interchangeable with each other but not with the MX series. They both have identical weights of 10 "mass" total. Meanwhile, the underbarrel shotgun is restricted to loading two types of drum magazines:
6.5 mm 30Rnd Promet Mag

Standard 6.5 mm NATO ammunition.
The last four rounds of the magazine will always consist of visible red tracers.
6.5 mm 30Rnd Promet Tracer Mag

Alternate tracer magazine.
Contains 30 rounds worth of visible red tracers.
12 Gauge 6Rnd Pellets

Used exclusively with the Promet SG's underbarrel shotgun module. The drum magazine is loaded with six pellet-type shotshells and weighs a total of 12 "mass" units.
Upon firing, a total of eighteen pellets will be dispersed in a pattern arranged by Poisson disc sampling within a 0.8 degree cone.
12 Gauge 6Rnd Slugs

Identical to the UBSG's pellet drums but loaded with armour-piercing slugs instead.
This drum weighs a total of 6 "mass" units.
Trivia
Its design is based on the bullpup variant of the real-world "MSBS Grot", a modular assault rifle designed by Polish firearms manufacturer FB "Łucznik" Radom.

On the other hand, the variant with an underbarrel shotgun fitted is modelled after Crye Precision's "SIX12" modular shotgun, while the UGL is based on the "GPBO-40" designed by Polska Grupa Zbrojeniowa (PGZ).

Despite both being chambered to fire the same caseless 6.5 mm NATO round and designed as a STANAG-compliant firearm, no model of the Promet can share their ammunition with any variant of the MX (and vice versa).
Following the Old Man mini-campaign/scenario's release, some of the Tanoan Gendarmerie's tactical response teams are shown using the Promet family (though only the baseline rifle and UBS-equipped variants).
The Promet is the first weapon in the entire series to feature a shotgun as an underbarrel attachment. It is also one of the two shotgun-type weapons in ArmA 3 alongside the Kozlice, though it cannot be used in a standalone configuration like the latter.

It is also the only weapon in ArmA 3 which features a dedicated optical sight as an attachment (in the form of the PMS).

Curiously, there is an alternate 5.56 mm-chambered magazine proxy model for the Promet which remains unused within the game files (Model name: mag_556x45_msbs_30rnd.p3d).

Appearance-wise, it is similar to regular 6.5 mm magazines but is slightly curved in shape, and has four 5.56 mm NATO cartridges visibly loaded by default. Visually, it is more akin to the proprietary 30-round plastic magazines used on real-world MSBS rifles.
Unfortunately, this unique 5.56 mm magazine cannot be utilised in-game as it requires a custom addon/config file to "include" it as part of the Promet's magazine pool.
Gallery
External links
See also
Weapons of comparable role and configuration