Obi-Wan Finale - The Loop
Play Sound
«

The RPD is a 7.62x39mm belt-fed machine gun developed in the Soviet Union as a replacement for the 7.62x54mmR DP-27 machine gun. The weapon is fed by drum magazines containing 100-round belts, and has a bipod for stability. It can be found mounted on vehicles, boats and tripods. US MACV SOG teams made field modifications to captured weapons by sawing off the barrel to cut its weight and encumbrance, and packed in an extra 25 rounds in the drum.

Field Manual

»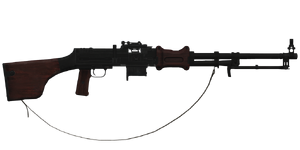 The RPD is a 7.62 mm light machine gun used by several BLUFOR and REDFOR factions in ArmA 3. It was added with the release of the S.O.G. Prairie Fire Creator DLC.
Overview
The RPD is a belt fed, gas operated light machine gun that uses a long stroke gas piston. It is chambered to fire the 7.62×39 mm round.
It can load from either 100- or 125-round drums. RPDs are able to attain fire rates of up to ~ 857 rounds per minute with a muzzle velocity of 860 m/s.
RPDs have integral bipods but do not possess the ability to mount optical scopes, bayonets nor sound suppressors. However, their ironsights can be adjusted starting at a zeroing of 100 metres up to a maximum of 1,000 metres (adjustments are made in increments of 100 metres).
Variants
RPD Shorty (El Cid)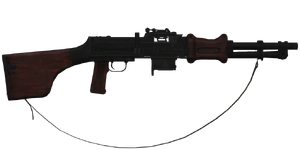 This variant is a customised model carried exclusively by El Cid of MACV-SOG.
Unlike the baseline RPD, it has a sawn-off barrel, sight and bipod. It is slightly less punishing on the user's stamina thanks to the shaving of 40 "mass" from the weapon itself.
However, recoil and inertial penalties remain unaltered from the baseline RPD. The shorter barrel also significantly reduces its accuracy by up to 40%. Furthermore, the lack of ironsights forces the RPD to use a fixed zeroing of 100 metres which cannot be adjusted.
RPD Shorty
The Shorty variant is statistically and functionally identical to El Cid's personalised RPD.
As such, it lacks the ability to zero beyond 100 metres and no longer has an integral bipod. Likewise, its accuracy is sharply reduced compared to the parent RPD though unlike the El Cid variant, the ironsight remains intact and can still be used to aim with.
RPD (High)
RPD (High)
Faction
PAVN
Viet Cong
Type
Static Light Machine Gun
Calibre
7.62×39 mm
Magazine
capacity
100
Dispersion
0.003 rad
Mass
56.2 (Weapon)
180 (Tripod)
Variants
RPD, El Cid, Shorty
Games
The RPD (High) is a static defence version of the RPD.
It is mounted onto a raised tripod and is statistically identical to handheld RPDs. Static RPDs are always pre-loaded with a single 100-round drum but have access to a further ten spare drums, providing a total ammunition count of 1,100 rounds.
The tripod can be swivelled in all directions horizontally but is limited to a vertical elevation/depression limit of 30 degrees.
Disassembling the turret will separate it into two components: the weapon bag itself, and the tripod. Static RPDs cannot be assembled from handheld RPDs as the two are mutually exclusive platforms.
Ammunition
| Base damage value | Aerodynamic friction | Initial velocity (m/s) | Penetration depth (mm) |
| --- | --- | --- | --- |
| 10.17 | -0.0016 | 745 | 13.41 |
Handheld RPDs can load from two types of drum magazines while static RPDs are limited to just one:
100Rnd. RPD Belt

Standard 100-round belt drum loaded with 7.62 mm ball ammunition. Weighs a "mass" of 34.
Every fourth round fired will be a visible tracer round. Only the last five rounds of the belt will consistently comprise of tracers.
125Rnd. RPD Belt

Extended capacity 125-round magazine used exclusively by MACV-SOG operators. It weighs a total of 44 "mass" units.
Unlike conventional 100-round drums, this "magazine" specifically uses a mix of one visible tracer for every two rounds fired.
Gallery
External links
See also
Weapons of comparable role and configuration
Weapons of

S.O.G. Prairie Fire

Handguns
.38 Revolver • HD .22 • HP 9 mm • M712 7.62 mm • M1895 7.62 mm • M1911 .45 • Mk1 UDG 2.54 mm • Mk22 Mod 0 9 mm • Model 10 .38 • PM 9 mm • TT-33 7.62 mm • Welrod 7.65 mm
Submachine guns
M/45 9 mm • M1A1 Tommy Gun .45 (Shorty, M1928, M1928A1) • M3A1 Grease Gun .45 •

MAT-49 9 mm

(

VC

) • MC-10 9 mm •

MP40 9 mm

• MPU 9 mm •

PPS-43 7.62 mm

(

PPS-52

) •

PPSh-41 7.62 mm

(

K-50M

) • Sten Mk.II 9 mm • VZ.61 7.65 mm
Shotguns
ISh-54 (Sawn-off, Sidearm) • M1897
Carbines
M1 Carbine 7.62 mm (M1 Rifle Grenade, M2, M2 Rifle Grenade, M3) • SKS 7.62 mm (GL) • XM177 5.56 mm (Foregrip, Stock, Short, XM148)
Assault rifles
M16 5.56 mm (XM148) • M38 7.62 mm • M49/56 7.5 mm (Rifle Grenade) • M63A 5.56 mm • Type 56 7.62 mm
Squad automatic weapons
DP-27 7.62 mm • M63A LMG 5.56 mm (Commando) • RPD 7.62 mm (El Cid, Shorty)
Machine guns
M60 7.62 mm (Shorty) • PK 7.62 mm
Designated marksman rifles
M14 7.62 mm • M1891 7.62 mm
Sniper rifles
M91/30 7.62 mm • M40A1 7.62 mm • XM21 7.62 mm
Grenade launchers
M79 (Sawn-off)
Launchers
9K32 Strela-2 (M) • B40 • B41 • M127 Flare Launcher • M72 LAW
Static
9P111 Malyutka • BGM-71 TOW •

D44

• DP-27 •

DShKM

•

L/60 Mk3

•

L/70 Mk2

•

M2

•

M2HB

•

M29

•

M45 Quadmount

• M60 •

M101

•

M1919A4

(

M1919A6

) • PK • RPD • Spiderhole •

Type 53

•

Type 56 Recoilless Rifle

•

Type 63

•

V-11M Twin AA Gun

•

ZPU-4

(Parenthesis) denote variants.
MACV

- Armoury (

S.O.G. Prairie Fire

)
Handguns
Submachine guns
Rifles/Assault rifles
Machineguns
Grenade launchers
Launchers
Static
(Parenthesis) denote variants.
PAVN

- Armoury (

S.O.G. Prairie Fire

)
Handguns
Submachine guns
Rifles/Assault rifles
Machineguns
Grenade launchers
Launchers
Static
(Parenthesis) denote variants.
Viet Cong

- Armoury (

S.O.G. Prairie Fire

)
Handguns
Submachine guns
Rifles/Assault rifles
Machineguns
Grenade launchers
Launchers
Static
(Parenthesis) denote variants.