«

The Rook-40 is a double action, short recoil operated, lock breech pistol. It fires the 9x21mm round and comes with tritium-filled night sights

Field Manual

»
Rook-40 9 mm
Faction
CSAT
Type
Handgun
Caliber
9×21 mm
Magazine
capacity
16 / 30
Variants
None
Games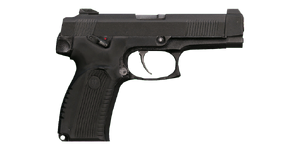 The Rook-40 is a 9 mm handgun used by CSAT forces in ArmA 3.
Overview
The Rook-40 is a double-action semi-automatic handgun chambered to fire the 9×21 mm round.
It can load from either 16 or 30 round magazines (the latter also shared by SMGs such as the PDW2000) and is able to attain a rate of fire of up to 600 rounds per minute, with a muzzle velocity of 450 m/s. The Rook-40 does not support any being fitted with any accessories but can have attachments mounted onto its muzzle.
Compared to its NATO counterpart, the Rook-40 weighs the same, has virtually identical recoil, is similarly compact, and also fires the same 9 mm round. But unlike the P07 it has a higher fire rate which, when combined with a 30 round magazine, can essentially turn the Rook-40 into a PDW that completely outclasses the former in close quarters.
In fact, the sole advantage that the P07 has over the Rook-40 is that it's slightly better in terms of accuracy when engaging targets at distances of up to 35 metres or more. However, because both weapons are still limited to an effective range of just under 50 metres, this accuracy advantage mostly becomes negligible with the Rook-40 still remaining as the better sidearm of the two.
Trivia
The Rook-40 is based on the real-world "MP-443 Grach" (also known as the "PYa") handgun designed by Kalashnikov Concern for use as the standard-issue sidearm of the Russian military.

Unlike the MP-443 however, the in-game Rook-40 is chambered to fire ArmA 3's ubiquitous 9×21 mm round as opposed to 9×19 mm 7N21 ammunition used by its real counterpart.
Despite the fact that the model's magwell would be unable to fit such magazines, the Rook-40 is capable of loading the same 30 round magazines used by the PDW2000.
Gallery
External links
See also
Weapons of comparable role and configuration