S.O.G. Prairie Fire is a premium DLC made for ArmA 3's Creator DLC programme. It was released on May 6th, 2021.
Overview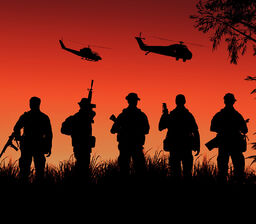 «
Get ready to experience the brutal intensity of the Vietnam War on a monumental scale. Developed with the help of US veterans and Vietnamese advisors, S.O.G. Prairie Fire immerses you deep within enemy territory as a member of covert special ops unit MACV-SOG and delivers an Arma 3 sandbox experience you won't forget.

Charge into battle with a wide range of historically accurate weapons and vehicles. Explore the steamy jungles and sprawling landscapes of Vietnam, Laos, and Cambodia. Run recon missions in a thrilling new co-op campaign and wage all-out war in new multiplayer and singleplayer scenarios.

Featuring the authentic combat, full-spectrum battlefield, and powerful scenario editor Arma 3 is renowned for, players can now experience the full scope of the Vietnam War on their own, with friends, or with one of the thousands of Arma community groups located around the world.

Official DLC Description

»
Set at the height of the Vietnam War, S.O.G. Prairie Fire has players charging into battle with a wide range of historically accurate firearms along with both ground and air vehicles. Accompanying the sandbox assets are a variety of playable missions in the DLC's titular co-op campaign and several multiplayer/singleplayer scenarios.
This Creator DLC also includes the Cam Lao Nam terrain. A sprawling landscape that includes parts of Laos and Cambodia, this Vietnamese-themed terrain covers over 300 km² of tropical jungle, heavily built up towns, isolated villages and farmland, mixed in with military bases and rivers.
All proceeds made from the sale of S.O.G. Prairie Fire are shared between the developers of the DLC (Savage Game Design, the creators), the publisher (Bohemia Interactive), and the digital distributor (Valve).
---
NOTE: The content in S.O.G. PF is completely optional to acquire. Unlike inhouse DLCs developed and released by Bohemia Interactive, content is only downloaded if the user purchases the DLC.

Optionally, players can download a trial version from the Workshop which is intended to be used for multiplayer compatibility purposes. The terrains and campaign are not fully accessible however, and vehicles cannot be driven or commanded outside of the editor without purchasing the DLC.
Content
Post-release assets will be gradually added via patches to the DLC's content library and expanded over time as they are completed. All additions are free of charge for both existing and future owners of the DLC.
Terrains
Factions
Campaign
Vehicles
Main article: S.O.G. Prairie Fire Vehicles
Vehicles of

S.O.G. Prairie Fire

Wheeled
Bicycle (Mule) • BTR40 • M54 (M109, M185, M49, M55) • M151A1 (Offroad) • Z-157
Tracked
M41A3 Walker Bulldog • Type 63
Rotor-wing
AH-1G Cobra • CH-34 (UH-34) • OH-6A Cayuse • Mi-2 (P, URN, URP, US) • UH-1 Iroquois (B, C, D, P)
Fixed-wing
F-4 Phantom II (B, C)
Aquatic
Boat • PTF Nasty Boat • Sampan • Shantou Gunboat
(Parenthesis) denote variants.
Weapons
Main article: S.O.G. Prairie Fire Weapons
Attachments
Weapon attachments of S.O.G. Prairie Fire
Riflescopes
Launcher sights
Muzzle
(Parenthesis) denote variants.
Screenshots
Video
SGD Publishing Extras
Published by Savage Game Design, these extra addons/game modes are free (unofficial) additions separately made available for use with the Creator DLC. They can be subscribed to via ArmA 3's Steam Workshop section:
Community Language Pack
The S.O.G. Prairie Fire - Community Language Pack offers localisation support for non-English languages. It was made with contributions from various members of the ArmA community.
The latest version (May 6th, 2021) adds localisation for Polish, Turkish, Korean, and Japanese. Additional languages may be included in future versions.
Mike Force
A unique game mode designed specifically for S.O.G. Prairie Fire, Mike Force was released on May 6th, 2021 as a beta. It is a persistent, open-world, co-operative multiplayer mission that allows players to choose from one out of four combined arms roles.
They must build bases to expand their capabilities, and to survive in the jungle against a numerically superior force of North Vietnamese. As players progress through the mission, they will earn rank points and medals which will unlock better equipment and supports. A dynamic AI commander ensures that no two playthroughs will ever be the same experience.
Trivia
S.O.G. Prairie Fire is the first Creator DLC to feature a Vietnam War setting rather than taking place in a Cold War-era European location.
It is the second third party-developed DLC to be released under the Creator DLC programme.
External links
See also
Community content is available under
CC-BY-SA
unless otherwise noted.