Jurassic World: Dominion Dominates Fandom Wikis - The Loop
Play Sound
S1203
Faction
Civilians
Type
Minibus
Seats
Standard variant: 6 seats:

Ambulance variant: 4 seats:

Item capacity
Max:

10× Weapons
50× Magazines
2× Backpacks

Top speed
93 km/h
Fuel capacity
60 fuel units
Primary armament
None
Secondary armament
None
Variants
Ambulance
Games
The S1203 is a minibus used by Takistani civilians and emergency services in ArmA 2. It was added with the release of the Operation Arrowhead expansion pack.
Overview
Roles:

Civilian transportation
Medical support
«

The Škoda 1203 is a utility car produced in Czechoslovakia since 1968. It is known for its low price, great variety and spacious trunk, but also for its weak engine and unreliable transmission.

Armoury Description

»
Design
The S1203 is a minibus that uses a four-cylinder engine with a cab-over layout.
Features
It is available in two variants; the baseline, unmodified van/minibus model, and an ambulance model with its rear seats removed to make way for medical stretchers.
Introduced in 1968, this outdated but trusty workhorse is still favoured by large Takistani families and merchants.
Some S1203s are also converted for use by emergency services, acting as rudimentary ambulances to quickly ferry injured patients.
Crew Capacity
Unmodified S1203s provide enough seats for both the driver and up to five passengers.
Variants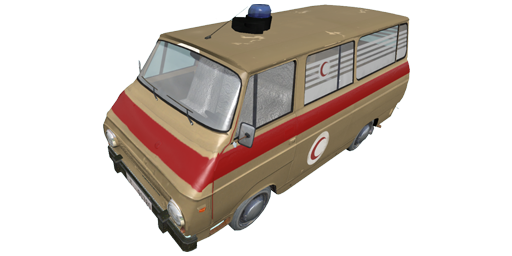 Dedicated ambulance variant.
It has a reduced transport capacity and is limited to ferrying just three passengers at a time; one of whom sits in the front seat while two lie in the back on the stretchers. However, wounded civilians and soldiers can heal themselves by approaching and "using" the vehicle.
Camouflage
Blue: All-blue colour scheme.
Tan, Ambulance: Desert tan paint scheme with the Red Crescent symbol and ambulance markings.
Protection
The S1203 has a base armour value of 20.
Successful strikes to any of the following highlighted sections will inflict full damage to the component:
Body
The vehicle's body can resist up to 20 points of damage.
Engine
The engines can only survive up to 10 points of damage before failing. A damaged engine will prevent the S1203 from being able to attain its top speed.
Fuel tank
The fuel tank can only take a meagre 2.8 points of damage before rupturing. Incurred damage will cause the S1203 to gradually leak fuel over time.
Wheels
Each tyre can incur just 4 points of damage before bursting.
Trivia
In-game S1203s are modelled after their real-world Czech-made counterpart, the 1974 model of the "Škoda 1203" then-designed by AZV Škoda and TAZ.
Prior to ArmA 3's Laws of War DLC, the S1203 was the only non-military civilian vehicle that could "heal" wounded humans.
The S1203 was the first model to be created by Martin Valasek (aka "Redstone"), the senior artist of ArmA 3, as part of his "admission test" shortly after joining Bohemia Interactive for the development of the expansion pack.
Gallery
External links
See also
Vehicles of comparable role and configuration