Jurassic World: Dominion Dominates Fandom Wikis - The Loop
Play Sound
«

The Belgian SLR battle rifle is one of the most widely used rifles in history. Chambered for 7.62 mm ammunition and outfitted with a heavy barrel, this variant acts primarily as a squad automatic weapon.

Field Manual

»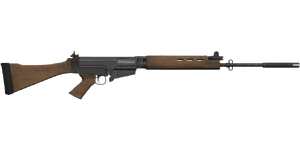 The SLR is a 7.62 mm battle rifle used by both North African CSAT forces and the SFIA, as well as with Tura tribesmen in ArmA 3. It was added with the release of the Western Sahara Creator DLC.
Overview
The SLR is a selective-fire rifle that is chambered for the 7.62×51 mm NATO cartridge.
It can load either 20-round box magazines or 30-round extended magazines. It has a muzzle velocity of 850 m/s, and can attain a fire rate of approximately ~ 705 (semi) or 700 (full auto) rounds per minute.
The SLR's top rail can be fitted with optical sights and its muzzle allows for a sound suppressor to be attached. However, the availability of accessories other than optics/suppressors depends on the type of furniture used. The default all-black version does not allow for bipods or flashlights and features an integral folding bipod.
Variants with wooden or camouflaged furniture specifically allow for a flashlight to be strapped onto the barrel with tape, but otherwise do not have a folding bipod affixed, nor do they allow for external bipods.
Variants
SLR GL
SLR GL 7.62 mm
Faction
CSAT
SFIA
Tura
Type
Battle Rifle / Grenade Launcher
Calibre
7.62×51 mm NATO / 58 mm
Magazine
capacity
20 / 30
Dispersion
0.00099 rad
Mass
155 (Non-wooden)
160 (Wood)
Variants
SLR
Games
The SLR GL is simply a normal SLR rifle that has been fitted with a rifle grenade adapter.
The adapter allows for a myriad of rifle grenades to be loaded and fired, ranging from 40 mm high-explosive (HE), 50 mm white smoke or 58 mm anti-tank (AT) rifle grenade rounds.
It is slightly less accurate when compared to baseline SLR and also has a lower rate of fire that reaches only 650 rounds per minute on full auto. It can still be fitted with optical sights but is unable to mount suppressors due to the adapter obstructing the muzzle.
As with the baseline rifle, only all-black SLRs have an integral folding bipod, while SLRs with wooden furniture allow for a flashlight to be strapped onto the barrel.
Camouflage
Black:* All-black colour scheme.
Desert:** Two-tone arid camouflage scheme.
Wood:*** Black parts with wooden furniture.
(*) The Black scheme does not allow for flashlights to be "attached" to the weapon.
(**) The Desert scheme is specifically unavailable for the GL variant.
(***) SLR models that utilise the Wood scheme are slightly heavier than their Black/Desert counterparts.
Ammunition
| Round name | Base damage value | Aerodynamic friction | Initial velocity (m/s) | Penetration depth (mm) |
| --- | --- | --- | --- | --- |
| 7.62×51 mm NATO | 11.6 | -0.001 | 850 | 20.4 |
| 40 mm HE | 40 | -0.001 | 100 | N/A |
| 50 mm Smoke | 1 | -0.001 | 100 | N/A |
| 58 mm AT | 130 | -0.001 | 100 | 6 |
SLRs are capable of feeding from two types of magazines. They are available with either a matte all-black colour scheme or desert camouflage pattern. It should be noted that these magazines are not compatible with other 7.62 mm battle rifles.
For SLRs fitted with a rifle grenade adapter, they can load explosive, anti-vehicle and less-than-lethal (LTL) smoke grenades:
7.62 mm 20rnd Mag
Standard 20-round box magazine loaded with 7.62 mm ball ammunition.
Does not contain visible tracers. It has a weight of 12 "mass" units.
7.62 mm 30rnd Mag

Extended capacity 30-round magazine. It is heavier and has a total weight of 18 "mass" units.
Aside from its increased capacity and weight, it is identical to regular 30-round magazines.
40 mm HE Grenade

Anti-personnel grenade round. Uses a high-explosive (HE) warhead.
It has a blast radius of 8 metres and weighs a total of 7 "mass" units.
50 mm Smoke Grenade (White)

Smoke grenade round for concealment. It has a weight of 9 "mass" units.
It disperses a cloud of white smoke upon impact. The cloud will last for up to 60 seconds before it dissipates.
58 mm AT Grenade

Anti-vehicle grenade round. It uses a high-explosive anti-tank (HEAT) warhead. It has a weight of 7 "mass" units.
The grenade has an explosive radius of only 3 metres. It can pierce up to 6 millimetres of armour plating.
Trivia
Western Sahara's SLR is directly based on the Belgian-made "FAL" rifle.
When the Creator DLC is loaded, the SLR and its variants will automatically replace the default loadout of North African CSAT forces (who normally use the Apex expansion's CAR-95 bullpup and its derivatives).

However, North African forces in Tac-Ops' Stepping Stone mini-campaign remain unaffected and will continue to use their default gear.
Gallery
External links
See also
Weapons of comparable role and configuration