Shapur, formally Shapur e-Dalanper, is a playable terrain in ArmA 2. It was added with the release of the British Armed Forces DLC.
Overview
«

Shapur is a small, strategically important area with pockets of densely developed settlements and industrial complexes within its regional boundaries.

ArmA 2: BAF Official website

»
Shapur, better known by its formal name of Shapur e-Dalanper, is located on Takistan's (disputed) southern border with the independent nation of Karzeghistan.
Shapur has remained as the sovereign territory of Karzeghistan for hundreds, if not thousands, of years. However, it has also had a rather turbulent past, with the area having fallen under temporary Takistani control during the 7th century. Until the present day, rival factions and ethnic tribes have also fought endlessly over the region - a conflict that has continued over the course of several centuries.
Recently, Shapur has gained increased significance with the discovery of oil deposits in exploration wells assembled by multinational corporations; efforts backed by the Karzeghistan Natural Resources Exploration & Exploitation Commission (KNREEC).
Geography
Including both the surrounding desert and the town itself, Shapur has a total size of just 4 square kilometres.
Conditions in Shapur are completely arid and dry. Shapur's biome is practically non-existent, with what little flora present being mostly limited to small shrubs only. The surrounding terrain consists predominately of rolling sand dunes with the occasional outcrop of small rock formations to its north and east. In the south, the surface is also sandy but is mostly flat instead.
Settlements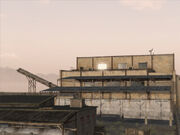 Shapur is inhabited by a small population of Karzeghis who mostly reside in the built-up, northern side of the area.
Prior to the Western-led intervention in Takistan, sporadic outbursts of fighting between Karzeghi security forces and the Takistani military caused an outflow of Karzeghi refugees seeking to flee from the constant fighting along the disputed border. It is only in recent years that locals have begun to return to Shapur; albeit under the close supervision of British troops.
The town is connected to three large industrial complexes which are set up close by. To the south, an airstrip along with a military depot/base provides access to the remote region, and covers half of the southern area of Shapur.
A stretch of road runs through the entirety of the region, connecting the northern homes to the south with the airstrip. Numerous oil pipelines run across the area, with a few smaller pipelines even stretching along the southern half of the main road.
Gallery
Trivia
Shapur is the only playable terrain that canonically shows a tiny fraction of the actual Karzeghi nation.
See also