Stratis is a playable terrain in ArmA 3.
Overview
«

With rugged terrain, expansive forests and a man-made airbase, Stratis offers a wealth of opportunities with which to wage war. Take to the skies in an attack helicopter, or fight on foot across this 20 km2, near-future battlefield. The choice is yours.

Official ArmA 3 website

»

Stratis is the smaller of twin landmasses that when combined together, form the Mediterranean island nation of the Republic of Altis and Stratis. It is located to the south of the mainland, and is a fully-militarised island with no civilian inhabitants.
Geography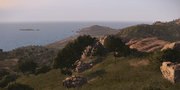 Stratis' landmass covers a total area of only 19.3 square kilometres.
Like the mainland, Stratis is of volcanic origin and its landscape consists of rocky crevices separated by steep valleys, though Stratis features many more pine forests that sprawl across large parts of the island (particularly in its south and east).
Stratis does not have any inland bodies of water. A total of seven bays are dotted along its shoreline - the majority of which are small inlets and coves.
Its geographic coordinates are located between 34° 48' 38.60" north and 16° 23' 49.81" east.
Settlements
Post-civil war, Stratis only features two settlements which are completely derelict and abandoned. No civilians remain on the island, and the majority of its former settlements have been turned into military facilities or camps instead.
Very few paved roads exist for both vehicle/foot travel. The majority of road access across the island are limited to simple dirt tracks, which are connected via a crossroad positioned in the island's centre.
Besides the two main bases of Air Station Mike-26 and the Stratis Airbase, a total of five more installations exist: Camp Tempest, Camp Rogain, Camp Maxwell, LZ Connor, and LZ Baldy. Both Connor and Baldy serve as landing pads for rotary-wing aircraft while Maxwell has been decommissioned and is no longer utilised by either foreign troops or government forces.
There are a total of two lighthouses present on the island; one built in the northern half (due north of Agia Marina) and another in its southern half.


---
Points of interest
Gallery
Trivia
Stratis is directly based on the Greek island of Agios Efstratios in the Aegean Sea, though some parts such as the Stratis Airbase do not exist on its real-life counterpart.
Instead of the mainland island of Altis, Stratis was actually the first terrain to become accessible to players during the Alpha and Beta stages of ArmA 3's development.
External links
See also