| | |
| --- | --- |
| | NOTE: This page is currently a Work-In-Progress (WIP). Information contained in this article is either incomplete or missing, and is subject to review. |
Stratis is a playable terrain in ArmA 3.
Overview
«

With rugged terrain, expansive forests and a man-made airbase, Stratis offers a wealth of opportunities with which to wage war. Take to the skies in an attack helicopter, or fight on foot across this 20 km2, near-future battlefield. The choice is yours.

Official ArmA 3 website

»

TBA
Geography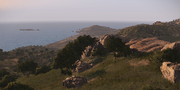 TBA
Settlements
TBA
Towns
---
Villages
---
Points of interest
Gallery
Trivia
Stratis is directly based on the Greek island of Agios Efstratios in the Aegean Sea, though some parts such as the Stratis Airbase do not exist on its real-life counterpart.
Instead of the mainland island of Altis, Stratis was actually the first terrain to become accessible to players during the Alpha and Beta stages of ArmA 3's development.
External links
See also