Obi-Wan Finale - The Loop
Play Sound
The Stratis Air Base (alternately referred to as the Stratis Airfield) is a naval air station located on the island of Stratis in the Republic of Altis and Stratis.
Overview
It is situated on the island's far west and is situated close to the nearby (now-abandoned) town of Agia Marina to its north-east. A small paved road connects the base to the town.
The Stratis Air Base did not originally exist as part of the island's geography. British surveyor Martin P. Maxwell, envisioned the plan for the airbase's construction in the early 20th century by artificially extending the island's terrain.
However, it would only actually be constructed in the 1980s in a joint effort between British and American engineers. Following the turn of the 21st century, the base serves both as a training ground and docking/resupply facility for the Altis Armed Forces' coastguard fleet and helicopter squadrons.
Prior to their departure, the airbase was also jointly operated in conjunction with U.S./British peacekeepers from NATO's Task Force Aegis.
Facilities
Barracks
The eastern area of the airbase (close to the base entrance) consists of multiple portable buildings separated by high walls arranged in a 2x2 grid formation. They serve as a barracks for housing the local garrison.
Control tower
Located right next to the main office building in the centre of the base, the airbase's control tower handles direction of all inbound/outbound aircraft.
Docks
The airbase has two L-shaped harbours; one in the south and another in the north. The northern harbour is much smaller and is mainly intended for maritime patrol vessels. The larger southern harbour includes a yard for storing shipping containers and other heavy cargo.
Hangars
A total of seven fixed-wing and eight rotary-wing hangars (non-hardened) are connected to the main runway. Four of the fixed-wing shelters are situated at the northern end of the runway while the remaining three are in the south.
The helicopter shelters are connected via small concrete runways in the middle of the base. Unlike the fixed-wing hangars they are located close to one another.
Helicopter pad
Not including the ones situated near the control tower, a rough-surface landing pad is located near the middle of the base (west of the barracks).
Radar
A large radar dome is situated at the end of the southern half of the runway.
Vehicle depots
Vehicle repair points and motor depots are situated along the stretch of road from the entrance north of the barracks.
Trivia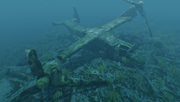 The wreckage of an MV-22 Osprey can be found just a short distance away from the southern end of the airbase's runway.

Its model is directly ported from ArmA 2, but has a unique heavily-rusted texture with overgrown algae applied over the entire craft.
Gallery
See also