Obi-Wan Finale - The Loop
Play Sound
Talon International is a U.S.-based private military company.
Background
Talon specialises in providing security for NATO military installations abroad, particularly throughout the Green Sea region where the majority of its contracts are carried out.
Unlike its rivals, the majority of its past and present operations are ground-based. Talon's contractors are predominately made up of North Americans and Western Europeans.
History
Alongside their rival, Talon contractors began to supplement and gradually replace NATO stabilisation forces in post-invasion Takistan, as the latter slowly withdrew from the country.
Talon's contractors mainly provided security details for supply convoys running through a stretch of territory located between the city of Nasdara and the NATO-run FOB Planck base in Central Takistan. Dubbed by locals as the "Death Road", it was notorious for the high number of deadly ambushes by militants along the length of the route.
Their signature black SUVs made them easily identifiable targets, with Talon forces usually being singled out by the various Takistani anti-NATO militant groups and tribesmen.
2013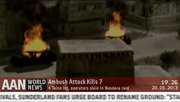 On May 20th, insurgents ambushed a Talon convoy containing four American contractors who were providing security for a shipment of electrical supplies headed to a NATO base.
The four contractors were shot and killed almost instantly in the opening stages of the attack, alongside three other civilian drivers as well. By the time the area was secured by U.S. forces, the insurgents had set the vehicles alight and fled the scene.
Officials from Talon denied all liability for the incident, claiming that responsibility for their deaths was solely on the hands of the contractors themselves.
Roughly two weeks after the ambush, the AAN conducted a special investigation to uncover the truth behind the ambush. Talon contractors provided security for the journalists while they conducted their search.
Trivia
Talon International was first introduced as an Armaverse company in ArmA 2's Private Military Company DLC.
While their contractors never actually make a physical appearance in-game, it is implied that the helicopter drones sent to attack Team Sword during the events of Operation Black Gauntlet were operated by Talon International.
A blogpost written by Karel Mořický (the studio's lead game designer for the ArmA series) on the development history of Private Military Company states that Talon International was originally intended to be a Dutch company rather than American.
See also