Jurassic World: Dominion Dominates Fandom Wikis - The Loop
Play Sound
UH-1Y
Faction
USMC
Type
Utility Helicopter
Seats
11 seats:

1× Pilot
1× Co-Pilot/Observer
2× Side Gunners
7× Passengers

Item capacity
Max:

30× Weapons
150× Magazines
1× Backpack

Top speed
~ 293 km/h
Service ceiling
6,100 m
Fuel capacity
1000 fuel units
Primary armament
Main:
Secondary armament
Secondary:

Defensive:

120× Countermeasures (Chaff/Flare)

Targeting:

Variants
UH-1H
Games
The UH-1Y is a utility helicopter used exclusively by the U.S. Marines in ArmA 2.
Overview
Roles:

Observation
Utility helicopter
Laser targeting
Troop transport
Light gunship
«
The UH-1Y Venom is an American medium-size multipurpose utility army helicopter. It is equipped with two external Mk66 70 mm rocket stations and two M240D 7.62 mm machine guns.
The UH-1Y is able to carry up to 3 tons of cargo or up to 10 passengers. It can provide close air support missions as well as transportation or reconnaissance.

Armoury Description

»
Design
The UH-1Y is an armed, four-bladed, twin-engined rotary-wing helicopter.
It is a modern iteration of the venerable UH-1 helicopter, and combines the versatility and reliability of the original UH-1 airframe with modern avionics and a new propulsion system.
Armament
It is armed with twin forward-facing 70 mm rocket pods, with each pod loaded with 7 high-explosive dual purpose (HEDP) rockets for a total of 14 rockets.
It also has two more 7.62 mm miniguns with one fitted to each side of the passenger cabin. Both miniguns are fed by linked 2,000-round belts, with a combined total of 4,000 rounds.
Features
Designed to ferry Marines into combat as well as provide fire support as a light gunship, the UH-1Y is a highly versatile transport helicopter.
The co-pilot/observer also has access to a laser designator (using the nose-mounted targeting pod) that can be used to guide precision bombs like the GBU-12 from other aircraft, allowing the UH-1Y to act in a forward air control role as well.
While it cannot carry as many troops as the larger MH-60S, it has a more compact and nimbler airframe that lets it land in areas with minimal clearance.
Drawbacks
The UH-1Y's small size does come at the cost of armour however, as the UH-1Y is significantly more vulnerable to ground fire than the MH-60S as a result of being smaller and lighter.
Crew Capacity
The UH-1Y has a seating capacity of eleven personnel (including the crew). This consists of both the pilot and co-pilot who doubles as an observer, and up to seven passengers who sit in the rear cabin facing towards the port and starboard sides of the fuselage (the passengers in the centre of the cabin sit facing either forward or towards the back instead).
Protection
The UH-1Y has a base armour value of 30.
Hull
The hull can withstand 30 points of damage.
Engine
The engine will be disabled if it takes more than 7.5 points of damage. A damaged engine will provide greatly reduced power output, preventing the UH-1Y from being able to attain its top speed.
Instruments
The cockpit's flight instruments can only take 4.5 points of damage before failing.
Main rotor
The main rotor can only withstand 9 points of damage. Disabling the main rotor will prevent the pilot from being able to maintain lift. 30% of damage is always transferred onto the main "health" pool of the UH-1Y.
Tail rotor
The tail rotor is limited to taking just 6 points of damage. Disabling the tail rotor will prevent the pilot from being able to control the main rotor's torque. At least 10% of damage will be shared with the main "health" pool of the UH-1Y.
Armament
The pilot controls the Hydra 70 rocket pods while the crew chief gunners handle the M134 miniguns.
The co-pilot/observer seat has access to a targeting pod with a laser designator. For optics, they alone can switch between three fields of view and toggle between regular day, night or green/black-hot thermal vision modes:
Hydra 70
| Damage type | Base damage value | Maximum speed (m/s) |
| --- | --- | --- |
| High-Explosive | 150 | 740 |
Forward-facing, twin 70 mm rocket pods. Fires unguided rockets that are strong against clumped-up infantry and unarmoured/lightly-armoured ground vehicles.
Rockets are always launched in pairs. There is an imposed delay of 0.08 seconds in-between launches (750 rounds per minute). They have initial velocities of 44 m/s and take a further 1.1 seconds for their motors to reach a top speed of 740 m/s in mid-flight. The warheads themselves have a blast radius of 12 metres.
M134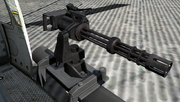 | Base damage value | Aerodynamic friction | Initial velocity (m/s) |
| --- | --- | --- |
| 25 | -0.0009324 | 900 |
Side door 7.62 mm Gatling guns. Useful for suppressing infantry and disabling unarmoured ground vehicles.
It has a variable fire rate depending on the selected fire mode:
LOW: ~ 666 RPM
HIGH: 1,200 RPM
Muzzle velocity is set to 900 m/s for both M134s. Accuracy-wise, they have fixed dispersion values of 0.0017 rad against targets at distances of up to 800 metres away.
Rotation limits depend on where the guns are mounted but horizontally are always restricted to 185 degrees in both directions. Vertically however, this is limited to an elevation of 30 degrees and depression of 60 degrees only.
Avionics
MAWS
The UH-1Y does not have a Missile Approach Warning System and will not warn the pilot of incoming missiles already in mid-flight.
RWR
The UH-1Y does not possess a Radar Warning Receiver and cannot alert the pilot of being locked-onto by radar-based targeting systems.
IWR
The UH-1Y lacks an Infrared Warning Receiver, and will not warn the pilot of being targeted by infrared-based weapon systems.
Trivia
Despite its Armoury Description stating that it is armed with dual "M240D" machine guns, the actual in-game UH-1Y is armed with twin M134 miniguns instead.

No USMC-operated UH-1Ys are available with side-mounted M240s, though Takistani Army-operated UH-1Hs that were later added with the Operation Arrowhead expansion pack are oddly enough, fitted with the M240 (it should be noted that regular Takistani Army infantry units do not utilise the M240).

Just like the MV-22, the UH-1Y was not initially "upgraded" to use countermeasure flares with the release of the Operation Arrowhead expansion pack (in contrast to its real-world counterpart).

Following the release of the Community Configuration Project updates for the Steam version, the UH-1Y's pilot was granted access to defensive countermeasures (while the co-pilot's targeting pod was given thermal vision capabilities). However, this update is not available to non-Steam versions of the game without manually applying the patch itself.

The UH-1Y has a cinematic-only version that is hidden in the game and cannot be spawned or placed in the editor without the use of scripting commands.

This UH-1Y (Classname: UH1Y_cutscene) can only be seen officially in the opening cutscene for the First To Fight mission in the main campaign. The main difference with this variant is that the seats have been rearranged so that the passengers sit facing forward towards one specific seat. This was done to ensure that the Razor Team members could clearly see Miles giving the briefing.
In addition, there is also a crashed version of the UH-1Y that can be freely placed in the editor or spawned via script. It cannot be flown for obvious reasons, but still features a usable minigun that can be manned by a gunner (it is treated as a static turret).
Gallery
External links
See also
Variants
Aircraft of comparable role and configuration