Jurassic World: Dominion Dominates Fandom Wikis - The Loop
Play Sound
«

The newer XM-177E2 is a notable improvement over its predecessor the E1, although still hampered by having a loud muzzle blast and a bright muzzle flash. Even with these two faults, however, it is a lightweight, compact, hard-hitting weapon that was used extensively by Special Forces troops throughout the Vietnam War.

Weapon Description

»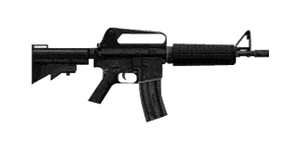 The XM-177E2 is a 5.56 mm carbine used exclusively by U.S. military forces in ArmA: Cold War Assault.
Overview
The XM-177E2 is a gas operated, selective fire carbine that is chambered to fire the 5.56×45 mm NATO round.
It loads from 30-round magazines, and can attain a fire rate of up to 857 rounds per minute with a muzzle velocity of 915 m/s. Its ironsights are fairly simple to aim with and it has an effective range of up to 300 metres.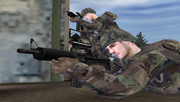 A common sight amongst U.S. military vehicle crews and helicopter pilots, the XM-177E2 is essentially a carbine variant of the full-length M16A2 rifle used by regular troops. As with the M16A2, the XM-177E2 also has the ability to launch rifle grenades from its muzzle.
However, unlike the M16A2 the primary difference with the XM-177E2 is that it is capable of firing on full auto as opposed to being restricted to a three-round burst, rendering it far more effective in close quarters.
Its main drawback is its muzzle flash, which is notoriously much larger than that of the M16A2's and can obstruct the shooter's sight when firing, especially under low-light conditions. Unless it's absolutely necessary, firing in short 1-2 round bursts will help to minimise the drawbacks of its excessive flash.
Variants
XM-177S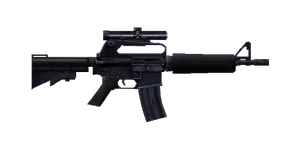 The XM-177S is an XM-177E2 carbine fitted with a red dot scope above the carryhandle.
Unlike the baseline XM-177E2, it is the exclusive weapon of U.S. black ops teams. In all other aspects, it is completely identical to its parent counterpart in every way, aside from the red dot scope rendering aiming at distant targets slightly easier.
Ammunition

| Base damage value | Initial velocity (m/s) |
| --- | --- |
| 9 | 915 |
For rifle grenades usable with the XM-177E2, refer to its dedicated article here.
Both variants of the XM-177E2 only support a single magazine type. It requires one free inventory slot to carry:
XM-177E2 Mag.
30-round magazine loaded with 5.56 mm ball ammunition.
Trivia
In prior versions of Cold War Assault (when it was previously released under its original name as Operation Flashpoint: Cold War Crisis) the XM-177S was not actually available on release and was only added with Patch 1.30.
Gallery
External links
See also
Weapons of comparable role and configuration