Obi-Wan Finale - The Loop
Play Sound
«

The XM177 was designed in 1966 as a compact variant of the M16. The rifle is chambered in 5.56mm and fed by 20 or 30-round magazines. As the springs were notoriously weak soldiers in Vietnam always removed 2 rounds from each magazine to prevent jams. 30-round magazines were very rare until 1970. This weapon was heavily modified in the field, with foregrips, alternate buttstocks and camo paint. Attachments included various telescopic sights, and the XM148 and M203 grenade launcher. MACV SOG had a unique flash suppressor designed to confuse the NVA as the moderator made the weapon sound similar to an AK47.

Field Manual

»
The XM177 is a 5.56 mm carbine used exclusively by MACV-SOG forces in ArmA 3. It was added with the release of the S.O.G. Prairie Fire Creator DLC.
Overview
The XM177 is a selective-fire, gas operated "assault" carbine with a locking bolt. It is chambered to fire the 5.56×45 mm round.
It loads primarily from 18-round box magazines but can also feed from newer 28-round curved or even improvised 36-round magazines. XM177s retain a muzzle velocity of 838 m/s and can reach fire rates of up to 600 or 800 rounds per minute depending on the fire mode.
XM177s cannot be fitted with suppressors or bayonets, but support the mounting of telescopic sights and night vision scopes which are attached onto the carryhandle.
Essentially a carbine counterpart of the M16 rifle, the XM177 features a number of modifications such as a telescoping shoulder stock in lieu of the M16's fixed buttstock, a significantly shorter barrel, and being much lighter to wield overall.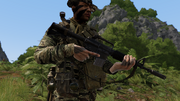 In terms of performance, XM177s are slightly identical to M16s in a few ways but handle very differently. The less sturdy buttstock results in reduced stability with regards to the XM177's recoil, making it more difficult to control when firing on full-auto.
Accuracy has also been affected by the shorter barrel, increasing the weapon's dispersion by approximately ~ 9% and limiting its effective firing range to well below 300 metres under the best of conditions.
However, where the XM177 shines is in close quarters. Unlike M16s, the XM177's compact profile grants the user an advantage in tight spaces since they will not be as severely penalised by the barrel's inertia. Weapon sway is lower and depending on the variant, the user will take less time to recover their stability after sprinting or when they are overencumbered and/or fatigued.
Overall, these upsides contribute to offsetting most of the XM177's drawbacks. When taking into account its modularity, the XM177 is an excellent alternative to the more rigid M16. If accuracy, stealth or firefights involving engagements beyond 300 metres are not going to be a factor, taking the XM177 over an M16 is a perfectly viable option for most scenarios.
Variants
XM177 (Foregrip)
XM177 (Foregrip) 5.56 mm
Faction
MACV-SOG
Type
Carbine
Calibre
5.56×45 mm
Magazine
capacity
18 / 36
Dispersion
0.0012 rad
Mass
65
Variants
XM177, Stock, Short, XM148
Games
The Foregrip variant features an underbarrel grip.
It is heavier than baseline XM177s but compensates for this with the grip which helps to reduce recoil when firing on full-auto (though not by a significant margin).
XM177 (Stock)
XM177 (Stock) 5.56 mm
Faction
MACV-SOG
Type
Carbine
Calibre
5.56×45 mm
Magazine
capacity
18 / 36
Dispersion
0.0012 rad
Mass
70
Variants
XM177, Foregrip, Short, XM148
Games
Unlike baseline XM177s, the Stock variant eschews the retractable buttstock and replaces it with the same full-length stock found on M16 rifles. This causes the Stock variant to share identical recoil with its rifle counterpart.
Consequently, the Stock variant is much heavier than its parent carbine and is bulky to wield in close quarters. Compared to other XM177 variants, the user's dexterity will be sharply reduced upon equipping this model.
XM177 (Short)
The Short variant is the only XM177 variant that is also utilised by South Vietnamese military forces alongside U.S. troops - specifically by aircrews and other non-line infantry personnel.
Featuring a barrel further cut down in length, it inflicts the least amount of inertial penalty upon the wielder and is ideal for close quarters. Further adding to its advantages is the fact that its muzzle velocity remains unchanged and that it is the lightest model in the XM177 family.
The sole drawback of the Short variant is that the amplitude of its sway is slightly greater, though this is virtually a non-factor given its advantages over the baseline XM177 in every other aspect.
XM177 (XM148)
XM177 (XM148) 5.56 mm
Faction
MACV-SOG
Type
Carbine / UGL
Calibre
5.56×45 mm / 40×46 mm
Magazine
capacity
18 / 1
Dispersion
0.0012 rad
Mass
85
Variants
XM177, Foregrip, Stock, Short
Games
A dedicated sub-variant of the XM177 carbine that features an XM148 40 mm underbarrel grenade launcher. It has an effective firing range of 300 metres.
Due to the added weight of the XM148 UGL, it is the heaviest model in the XM177 family, though it can load from the same 18- or 28-round box magazines (or 36-round taped dual magazines). Meanwhile, the XM148 is capable of loading a myriad of 40 mm grenades fitted with high-explosive (HE) warheads, smoke, flare or riot control gas.
However, it should be noted that XM148-fitted XM177s do not allow the user to mount any optical scopes and restricts them to aiming through the carryhandle's ironsights only.
Being a primitive prototype launcher, the XM148 lacks a leaf/quadrant sight to facilitate aiming with. Whilst aiming is still possible with only the front sight under optimal conditions ("zeroed" to fixed ranges of 50, 100, 200 and 300 metres respectively), it isn't all that much of an improvement over older muzzle-fired rifle grenades.
As such, hitting a point target at its (theoretical) maximum firing range of 400 metres with any degree of precision will require some skill and practice to get used to - along with a shred of luck.
Camouflage
Black: Standard black/dark grey finish.
Camo:* Jungle stripe camouflage pattern.
(*) Only available on the baseline, XM148 and stock variants.
Ammunition
NOTE: XM177s are capable of loading the same magazines utilised by non-S.O.G. 5.56 mm-chambered weapons. To minimise clutter, they are deliberately excluded from this section.
| Base damage value | Aerodynamic friction | Initial velocity (m/s) | Penetration depth (mm) |
| --- | --- | --- | --- |
| 8 | -0.001425 | 900 | 13.5 |
For grenade rounds usable with the XM148, refer to its dedicated article here.
Irrespective of variant, XM177s are capable of loading six types of magazines. They can be shared with M16 rifles but not with M63As:
20Rnd. M16 Mag

Standard 18-round box magazine loaded with 5.56 mm ball ammunition. Every fourth round fired will comprise of a visible tracer. Only the last four rounds will consist exclusively of tracers. Weighs a total "mass" of 7 units.
Although classified as a 20-rounder, two rounds are deliberately removed to allow for more reliable feeding. As such, the magazine actually contains only eighteen rounds as opposed to the expected twenty.
20Rnd. M16 Mag (Tracer)

Alternate 18-round magazine.
It is statistically identical to standard 20-rounders but is loaded exclusively with tracer ammunition.
30Rnd. M16 Mag

Newer 28-round magazine with a curved shaped. It is slightly heavier to carry and weighs 9 "mass" instead.
As with 18-round box magazines, it is technically a 30-round magazine but has two rounds removed on purpose to accommodate for feeding issues.
30Rnd. M16 Mag (Tracer)

Alternate 28-round magazine loaded solely with tracer ammunition.
It is otherwise identical to basic 28-round magazines.
20Rnd. M16 Mag (Dual)

Improvised "magazine" comprising of two 18-round boxes taped together for double the capacity (36 rounds).
Because the "magazine" is essentially just two 18-rounders combined, it weighs twice as much at 14 "mass". In all other aspects, it remains unchanged compared to the other available magazines.
20Rnd. M16 Mag (Tracer/Dual)

Combines two 18-round box magazines loaded entirely with tracer ammunition.
In other aspects, it remains unchanged compared to the "regular" dual magazines.
Trivia
The sling is purely cosmetic and has no in-game effects upon regular gameplay.
Gallery
External links
See also
Weapons of

S.O.G. Prairie Fire

Handguns
.38 Revolver • HD .22 • HP 9 mm • M712 7.62 mm • M1895 7.62 mm • M1911 .45 • Mk1 UDG 2.54 mm • Mk22 Mod 0 9 mm • Model 10 .38 • PM 9 mm • TT-33 7.62 mm • Welrod 7.65 mm
Submachine guns
M/45 9 mm • M1A1 Tommy Gun .45 (Shorty, M1928, M1928A1) • M3A1 Grease Gun .45 •

MAT-49 9 mm

(

VC

) • MC-10 9 mm •

MP40 9 mm

• MPU 9 mm •

PPS-43 7.62 mm

(

PPS-52

) •

PPSh-41 7.62 mm

(

K-50M

) • Sten Mk.II 9 mm • VZ.61 7.65 mm
Shotguns
ISh-54 (Sawn-off, Sidearm) • M1897
Carbines
M1 Carbine 7.62 mm (M1 Rifle Grenade, M2, M2 Rifle Grenade, M3) • SKS 7.62 mm (GL) • XM177 5.56 mm (Foregrip, Stock, Short, XM148)
Assault rifles
M16 5.56 mm (XM148) • M38 7.62 mm • M49/56 7.5 mm (Rifle Grenade) • M63A 5.56 mm • Type 56 7.62 mm
Squad automatic weapons
DP-27 7.62 mm • M63A LMG 5.56 mm (Commando) • RPD 7.62 mm (El Cid, Shorty)
Machine guns
M60 7.62 mm (Shorty) • PK 7.62 mm
Designated marksman rifles
M14 7.62 mm • M1891 7.62 mm
Sniper rifles
M91/30 7.62 mm • M40A1 7.62 mm • XM21 7.62 mm
Grenade launchers
M79 (Sawn-off)
Launchers
9K32 Strela-2 (M) • B40 • B41 • M127 Flare Launcher • M72 LAW
Static
9P111 Malyutka • BGM-71 TOW •

D44

• DP-27 •

DShKM

•

L/60 Mk3

•

L/70 Mk2

•

M2

•

M2HB

•

M29

•

M45 Quadmount

• M60 •

M101

•

M1919A4

(

M1919A6

) • PK • RPD • Spiderhole •

Type 53

•

Type 56 Recoilless Rifle

•

Type 63

•

V-11M Twin AA Gun

•

ZPU-4

(Parenthesis) denote variants.